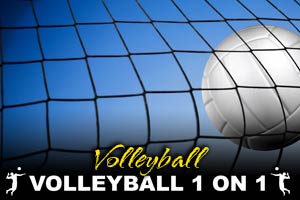 Volleyball1on1 goal is to be your #1 resources for volleyball. This includes volleyball information, coaching, drills, instructional videos, practice plans, online courses, training, workouts, store and more for both beach volleyball and indoor volleyball. We cater to all skill levels including beginners, juniors, youth, high school, club, college and professional level players.
I want to share some of the most important points to winning at the high school level. Now I know this may seem obvious, but often this is all it takes! It reminds me of one of my favorite sayings by a great man: "All truths are easy to understand once they are discovered; the […]

This article will review how I improved my jump in my very late 30's! I'm not 40 yet dam it! This article will incorporate jump training programs from some of the best athletic trainers in volleyball globally.

In this article I will review what I have learned working with some of the best volleyball trainers in the world. As I mentioned last week I turn 40 in month and a half and I am in the best shape I have been in 10 years.

The science of supplements and nutrition is light years ahead of when I first started taking supplements in 95 – 96 entering UCLA looking to win a National Championship. Since then over 20 years ago, the advancements in legal supplements have been so incredible it honestly feels like cheating if I compare to back then!

The science of training has changed dramatically! Personal training and sports is big business and as a result the knowledge of what works is extraordinary! Also there is now real science behind what were previous theories on training with the result that the training systems are more proven and tested! In this article I will […]

Billions of dollars have been spent since the 50's on research related to the OODA Loop and military warfare. Many of those same, researched concepts can be applied volleyball. In this diagram we show you how many of our ideas on "Reading the Game" and "Volleyball Strategy" come together in one philosophy and diagram.

In this article I want to review what high school summer camps should teach players / coaches and what your camps in the past may have missed. As I discussed last week, referencing Harvard professors J Richard Hackman 60-30-10 Rule up to 90% of your seasons outcome can be influenced by your volleyball summer camp […]

In volleyball, building team leaders within a team is critical for long term team and coaching success. These leaders can be taught to take over many traditional challenging coaching responsibilities which often create problems with coach to player relationships. In talking with coaches the characteristics of the current millennial generation of players has accelerated this […]

So as many of you know I still love playing beach volleyball competitively and I wanted to share an important tip that has really helped me as I turn 40 this year to compete against those young bucks. Hopefully it will help you do the same! As an older player I find attacking successfully is […]

Richard Hackman was a World Renowned Harvard University Professor who studied and offered powerful new insights on team effectiveness that are very helpful in coaching volleyball.

One important area that is not empathized enough on defense is the physical orientation of the set and players getting meaning from the set as it relates to defense both blocking and digging. To help overcome this challenge I have created a fun acronym, "I.T.S.S." to help players understand this is the first thing they […]

High school volleyball season is brutal in that team matches start just weeks after the first practice. In this article I am going to quickly explore how we work with high school teams and coaches to learn 70-80% of what they need to know before the season begins.

In reviewing volleyball coaching as a whole "Reading the Game" is the biggest change in volleyball coaching in the last 5 years. In review "Reading the Game" is the skill I most often hear high school and club coaches struggle to teach and are most interested in learning. Yet the majority of experts are teaching […]

Today I am going to share with you the first lesson I teach at every volleyball camp and clinic and I encourage you to do the same. Why, because the results are instantaneous and massive! Amy Cuddy, a professor and researcher from Harvard Business School offers powerful insights into her years of research on […]

How do you deal with stress in big volleyball matches? In this video Alan Knipe, USA Head Coach for the 2012 Olympics and current head coach for LBS NCAA Men's shares secrets some of the top players in the world use to help them perform at their peak.

This video features Alan Knipe reviewing important volleyball setting "Verbal cues" for setters and non-setters. Great coaches have the ability for players to understand and remember complex motor patterns with easy to understand verbal cues or keys. This video demonstrates why Alan is one of the best coaches in the United States.

Because of a lack of real commitment and buy-in, team members develop and avoidance of accountability. Without committing to a clear plan and each member understanding their individual and team contributions to that plan, even the most focused and driven teams often hesitate to call each other out on actions and behaviors counterproductive to the […]

Lack of commitment is the third dysfunction of many teams that results in failure. In talking with many high school coaches about their season this year I am finding something they often express to me is the player's lack of commitment. This to be honest is a common theme I hear from many coaches when […]

This video features Alan Knipe sharing coaching advice on volleyball passing communication. Advice includes communication, calling and understanding seam responsibilities, building trust and more. This video will help you become better at passing and serve reception. Alan Knipe was the 2012 USA Men's Coach for the Olympics in London. Alan is arguably one of the […]

This video features Alan Knipe sharing tip for a better pre-serve volleyball passing routine. This video will help you become better at passing and serve reception. Alan Knipe was the 2012 USA Men's Coach for the Olympics in London. Alan is arguably one of the top coaches in the world and is currently the head […]

Fear of conflict is a major reason many teams fail over the course of a volleyball season. By comparison healthy debate tends to lead to more success yet few coaches know why and how to foster this important environment with and amongst their players. As a coach I think conflict is good for progress. […]

Situations I would often do this in are for the elite high school and club players (College destined super star) on teams with mediocre talent that are rolling along in second or third gear through practice and still dominating. My goal with these players is multifold… READ MORE!

80% of businesses fail in the first 5 years and 96% of business fail in the first 10 years. In business the solution beyond this is taking advantage of the turnkey revolution or building systems dependent businesses. Those same successful business principals can lead to more successful coaching.

Why do teams fail? This is a question many of you are asking or considering ask you look back or forward to your volleyball season. This is a question we answer in this post and includes easy to use tools!

In my previous life to Volleyball1on1 Owner / Coach I used to be a business consultant with my wife. We would consult 20-30 business owners a month and would offer advice for business success. Perhaps one of the best pieces of business advice I have ever heard was from our business partners Jairek Robbins farther […]

This is a girls high school volleyball match evaluation with Andor Gyulai. This is a team Andor Gyulai coached during the summer and unfortunately we are not seeing allot of the things that we worked so hard on during the summer to get good. This video is a reminder of some of our teams guiding […]

In this post I wanted to reference some important resources to help when using science to develop a team game play principals and a volleyball coaching philosophy. This article is less about sharing opinions and more about referencing other studies and articles in order to have a foundation from which to analyses your own philosophies.

This post contains a 2 part video evaluation of Ryan Doherty blocking verses the great Ricardo and Alison. I love Ryan and what he does for the sport however he is making some major, easy to correct blocking mistakes and it is time to fix them before the Olympics!

In this video Andor Gyulai reviews the verbal cues: Specificity. This is an important cues to use early and often with new volleyball players at it is an important foundation for coaching! This is also an important practice and drill design philosophy.