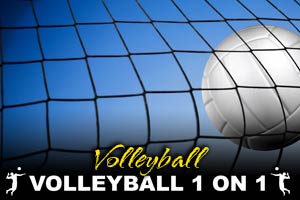 Volleyball1on1 goal is to be your #1 resources for volleyball. This includes volleyball information, coaching, drills, instructional videos, practice plans, online courses, training, workouts, store and more for both beach volleyball and indoor volleyball. We cater to all skill levels including beginners, juniors, youth, high school, club, college and professional level players.
In this video Trevor Johnson discusses understanding the group dynamics when coaching women's volleyball. This is a great video for all you male coaches coaching female volleyball players.

Trevor Johnson shares coaching advice on how to win and what he did as a coach to help his program have success its first year. This video is an eye opener and will help you as a coach with important elements for success.

I am starting to spike hard again! Come have a laugh and watch me take Dillon out! This videos will make you laugh, cry and shout share all in the same breath.

Steve Anderson is one of the most accomplished beach volleyball coaches in the world having won the gold medal with the Australian women's beach team in 2000 and is the current heard coach of Beach Volleyball Canada. In these 6 video series Steve teach correct beach volleyball spiking technique.

This is one of the best videos we have ever filmed on beach volleyball spiking technique. In it Steve and Andor Gyulai (Andor – Has #1 Video in the world on Volleyball Spiking Technique) discuss every detail as it relates to beach spiking!

In this video Steve talk about an important concept for beach volleyball offense, meaning spiking as well as beach defense. This is the concept of the gift circle and understanding when spiking as much as possible to hit outside the circle while on defense to be able to dig every ball in the circle!

Video 2 offers coaching on Arm Swing Technique for beach volleyball spiking with Steve Anderson. This video offers detailed in depth instruction on every aspect of beach volleyball hitting and spiking.

This is video 1 on beach volleyball spiking with Steve Anderson and this video offer a beach spiking demonstration. This video is filmed from multiple angles and offers the basics of beach volleyball spiking technique.

Volleyball1on1 is excited to offer a Free ProSeries Volleyball Shoulder / Rotator Cuff Ice Wraps to all Gold and Platinum Members. Also enter the coupon code VB1on1 and receive a 20% discount on your next purchase. This is the best Ice Wrap in the market for shoulder rotator cuff injuries from hammering and spiking volley balls. See what volleyball legends below have to say:

Video 5 on Beach Volleyball Blocking with Steve Anderson is about "Play On the Ball". In this video Steve shares a great volleyball blocking drill he uses to teach effective beach blocking.

This is a 5 videos beach volleyball defense series teaching the skill of defense. It features gold medal coach and head coach of beach volleyball Canada Steve Anderson.

5 Video beach volleyball serving series with Steve Anderson. This post / article features all the videos as well as descriptions for each videos. Steve is an Olympic Gold Medal Coach and Head Coach of Beach Volleyball Canada.

This is a beach volleyball serving demonstration of the float serve. You will see the serve from 3 different angles namely back view, side view and front view.

Video 2 on beach serving, the arm swing that generates great force and accuracy.

Video 3 with Steve Anderson on Beach Serving discusses addressing the ball or the toss. This is a critical part of serving which is often neglected in our sport relative to a sport like tennis. Steve's shares his effective and proven step by step approach to addressing the ball.

Video 4 in beach volleyball serving with Steve Anderson is on targeting. Steve has an accuracy tool / sequence he uses called: Hand, ball and target.