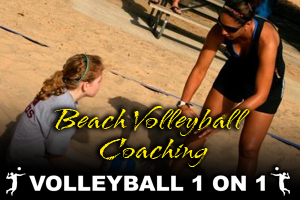 Volleyball1on1 offers beach volleyball coaching by some of the greatest players and coaches to ever be involved in the game. Our beach volleyball instructors and coaches have won multiple Olympic medals including gold twice for beach volleyball, as well as have won over 200 AVP and FIVB events combined. Additionally we offer information for beach volleyball camps, beach volleyball coaches clinics, private or group beach volleyball lessons, beach volleyball classes and beach volleyball clubs.
So as many of you know I still love playing beach volleyball competitively and I wanted to share an important tip that has really helped me as I turn 40 this year to compete against those young bucks. Hopefully it will help you do the same! As an older player I find attacking successfully is […]

This post contains a 2 part video evaluation of Ryan Doherty blocking verses the great Ricardo and Alison. I love Ryan and what he does for the sport however he is making some major, easy to correct blocking mistakes and it is time to fix them before the Olympics!

This video features a continuation and a progression from the previous spray pass drill. Now players not only have to set a bad spray pass, but in some cases the spray pass is so bad they have to set the ball behind themselves. This video also works on player spacing and helps the attacker with […]

This video features the spray pass setting drill and coaching with Anjinho Bacil. A short low pass is a common error when passing the ball infront of your inside leg however at the height Anjinho recommends however practicing this drill results in an easy fix where the setter can improve the play and get the […]

This video series features Pedro Brazao taking the players through a guided hard angle hit ball with a line block off a server to either player. If the defender does not dig the ball the coach puts in another ball. This video has the funniest in action sequence we have ever filmed! "This will hopefully […]

This beach volleyball defense drill features two balls, a line pull and a angle block with a line defense. Each play is played out and the coach Pedro Brazao is hitting off a bench. This video features allot of good verbal cues as well as some good coaching feedback for line defense with an angle […]

What's better to train in for beach volleyball, deep or shallow sand? In this video Andor Gyulai and Miles Evans talk about the difference between training and playing in Manhattan Beach verses Huntington Beach.

This video contains beach volleyball coaching tips for blocking shots plus a 2 ball defense drill with a block and a dig with Brazilian Coach Pedro Brazao coaching. This video is extremely insightful as Pedro discusses a common mistake players make when trying to block shots in beach volleyball. His answer is on point and […]

This video contains volleyball coaching advice for beach volleyball blocking. Additionally Pedro gives us a quick review of the players skill level and some thought on things the players should improve. Please keep in mind all the players except Andor Gyulai (Volleyball1on1 Owner) have represented United States for Beach Volleyball. What this means is you […]

In this video Andor Gyulai points out some common beach volleyball blocking mistakes to avoid. This video also includes tips for "reading the game", pulling and beach volleyball strategy. This video was filmed in South Africa on his recent trip from Dec 2014 – Feb 2015.

I would like to share an easy to use and easy understand example of how to OODA Loop your opponent using Hick's law. This example was used on me initially quite effectively by my good friend Colin Pockock (Age 44) in South Africa who is a former beach volleyball Olympian who took a 9th at […]

Human reaction time is defined as the time elapsing between the onset of a stimulus and the onset of a response to that stimulus. A primary factor affecting a response to stimuli is the number of possible stimuli or in volleyball's cases what you "Read" your opponent doing. In 1952 a researcher named Hick confirmed […]

Beyond being used as a better tool for "Reading the Game" and teaching Volleyball Skills more effectively the OODA Loop is a powerful way for players and coaches to approach Volleyball Strategy. Colonel John Boyd the military strategist who rewrote the book on modern air warfare and the man behind the OODA Loop believed that […]

In this video Jason Lockhead points out a common mistake most players make with their dominant vs. their non dominant hand when blocking. Its simple to fix and can have a huge impact but players need to be conscious of it and focus on it! In this video Jason also talks about what your hands […]

This video features more of Jason Lockhead's Superman Defense Technique plus insightful ideas to help players with what is the correct mindset when playing beach defense. This video again demonstrates that great teachers / coaches have the ability to simplify the game and focus on the positive things that matter. Jason demonstrates this in this […]

This video describes Jason Lockhead Superman Defense Technique. The technique involves you putting your non digging hand in the sand for more control so that you look like superman "Flying Pose" as you fly along the top of the sand. This technique was filmed while during practice while Jason was running a 2 ball beach […]

I am in South Africa training to hopefully play in the FIVB event in a few weeks. So with that in mind and having only started training with my new partner 8 days ago, every day I ask the question: "What is the most important points to focus on today so that we can have […]

Triangle Warm Up Drill is the most used drill in beach volleyball. The drill works on two of the major skills, passing, setting and warming up players shoulders from hitting. The drill is also great for player spacing and communication. In this video Pedro Brazao takes the players through the drill and offers his own […]

This is post is about my trip back to Africa as well as this being a volleyball website I thought I would start off with the most important things to work on when starting a new 2 person beach volleyball partnership as I see it. This is what I am doing with my new partner […]

In early 2014 Volleyball1on1 Owner Andor Gyulai filmed a beach volleyball practice with AVP and FIVB player and coach Jason Lockhead. Jason at age 30 is one of the youngest beach volleyball coaches we have ever filmed and also one of the most talented. For the practice we brought in 3 high level USA Beach […]

This video features a Beach Volleyball Spiking Evaluation / Lesson / Fix offered as part of Volleyball1on1.com Membership. The video features Andor Gyulai (Volleyball1on1.com – Owner) reviewing the beach spiking technique of an adult male player.

In this video you will learn advanced beach volleyball strategy for offense and defense used by the best players in the world including Kerri Walsh and April Ross. This video will offer new insights on running offensive and defensive routes as well as new advanced blocking calls to make this possible. This video includes demo […]

This video focuses specifically on L vs. I Route and Offensive Strategy in Beach Volleyball. This video is part of a larger video but starts at the specific location where Andor starts talking about the L and I formation offense in beach volleyball. Video includes examples from Kerri Walsh Jennings, Sean Rosenthal, Casey Patterson, Emanuel […]

In this video we share advanced beach volleyball setting technique with Stein Metzger. (UCLA Sand Coach, NCAA MVP, Beach Volleyball Olympian)

In this video Bill Harrison discusses important concepts as they relate to the zone, the peak the of athletic performance.

Steve Anderson is one of the most accomplished beach volleyball coaches in the world having won the gold medal with the Australian women's beach team in 2000 and is the current heard coach of Beach Volleyball Canada. In these 6 video series Steve teach correct beach volleyball spiking technique.

This is one of the best videos we have ever filmed on beach volleyball spiking technique. In it Steve and Andor Gyulai (Andor – Has #1 Video in the world on Volleyball Spiking Technique) discuss every detail as it relates to beach spiking!

In this video Steve talk about an important concept for beach volleyball offense, meaning spiking as well as beach defense. This is the concept of the gift circle and understanding when spiking as much as possible to hit outside the circle while on defense to be able to dig every ball in the circle!

Video 2 offers coaching on Arm Swing Technique for beach volleyball spiking with Steve Anderson. This video offers detailed in depth instruction on every aspect of beach volleyball hitting and spiking.

This is video 1 on beach volleyball spiking with Steve Anderson and this video offer a beach spiking demonstration. This video is filmed from multiple angles and offers the basics of beach volleyball spiking technique.