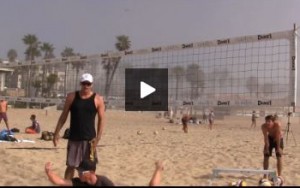 This video describes Jason Lockhead Superman Defense Technique. The technique involves you putting your non digging hand in the sand for more control so that you look like superman "Flying Pose" as you fly along the top of the sand. This technique was filmed while during practice while Jason was running a 2 ball beach volleyball defense drill.
All beach defender / beach coaches must watch this video as it will help players have more control when digging line and cut shots. This important technique we were surprised to discover non of the U26 players had seen working with the USA beach coaches till now.
Click Here – Jason Full Beach Volleyball Practice Plan and Drills.