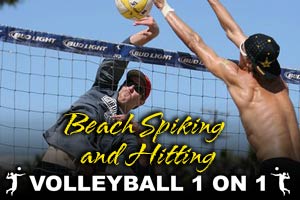 Information on beach volleyball spiking and hitting including how to videos and drills for spiking: line, angle, cut, short line, deep line, deep middle, flat angle, sharp angle, short cross and sharp cross court. Also tips, secret and advice for better volleyball spiking vision and how to see the defense and the block when going up to spike or hit on the beach.
Steve Anderson is one of the most accomplished beach volleyball coaches in the world having won the gold medal with the Australian women's beach team in 2000 and is the current heard coach of Beach Volleyball Canada. In these 6 video series Steve teach correct beach volleyball spiking technique.

This is one of the best videos we have ever filmed on beach volleyball spiking technique. In it Steve and Andor Gyulai (Andor – Has #1 Video in the world on Volleyball Spiking Technique) discuss every detail as it relates to beach spiking!

In this video Steve talk about an important concept for beach volleyball offense, meaning spiking as well as beach defense. This is the concept of the gift circle and understanding when spiking as much as possible to hit outside the circle while on defense to be able to dig every ball in the circle!

Video 2 offers coaching on Arm Swing Technique for beach volleyball spiking with Steve Anderson. This video offers detailed in depth instruction on every aspect of beach volleyball hitting and spiking.

This is video 1 on beach volleyball spiking with Steve Anderson and this video offer a beach spiking demonstration. This video is filmed from multiple angles and offers the basics of beach volleyball spiking technique.

Stein talks about using the pokey and how one of them has his name, "The Steino".

Moving to attack is one of the most important and under practiced skills in beach volleyball. Stein calls it "Moving without the ball" and in this instructional and drill series you will learn this important skill so that you can spike better.

This video is a great example of something Stein picked up while competing in Boulder, Colorado on the AVP Pro Tour that really helped him be a better player and get more kills and more aces while playing at altitude. The technique is call the "Goose Neck – Snap it Like a Pig".

In this series of videos Stein Metzger coaches beach volleyball spiking technique. This is a great instructional series for all players looking to hit better when playing sand volleyball.

Steve presents a series on spiking which is what every beginner wants to learn. In these videos everything is broken down and builds confidence with easy to understand instruction and drills.

1. The arm swing on the beach is unique and slightly different from indoor. Proper technique prevents injury and forms a base to work on.

I am excited to add Sinjin Smith As our newest instructor on Volleyball1on1.com (4/12/13). Sinjin Smith won 2 National Championships at UCLA and was MVP his senior year. Coming out of college he and Karch dominated the beach volleyball scene as you can see below until Karch left for indoor and the Olympics

The approach is one of the most critical things to consider when spiking in beach volleyball. In this free instructional volleyball coaching video Sinjin shares tips for having more success when hitting.

Matt explains how to spike on the beach. In this video he teaches new players when to approach as well as offers other tips and advice on hitting.

This beach volleyball and sand drill focuses on passing a ball followed by the technique for a volleyball approach and spike. A few things this drill will help reinforce with good verbal cues: Slow to fast, open up to the ball and contact the ball on your right shoulder.

In this multi video instructional series Tom Black and John Meyer offer specific details on helping players improve their approach and thus their spiking after passing. This is a great video and drill for players of all levels. There are also some great verbal cues offered for coaching.

Priscilla demonstrates a court vision beach drill. The drill has the hitter use their peripheral vision to hit to a coach, without a call from the setter.

Priscilla presents how to use the cut shot on the beach. Instruction includes how to disguise the cut until the last second then find the open court.

Priscilla shows and explains a cut shot drill. The drill is run on both sides of the court with two players.

Priscilla presents two line shot drills for the beach. Each drill is with two players switching to both sides of the net for a lot of touches and cardio.

Seth talks about the arm swing on the beach. Indoor the arm swing is faster and more compact while a longer swing outdoors requires many adjustments as mentioned in the video.

Lauren talks about how to tool the block. Discussed are which sets to use the tool and what type of blocker is easy to tool.

In part II Dana tells the defender to hit the same shot every time while the blocker works on setting.

Part III the players switch positions with Dana making corrections during and after the play. Great to see some of the corrections and verbal ques.

Part IV the players review how improvements are noticeable. Dana adds even more for the players to work on during the beach volleyball practice.

Part V players switch to the other side of the net and are able to work on any shot they want. Verbal cues are made for good contacts.

Dana starts to mold the players approach for moving on the sand. The advantage of an outside vs an inside set is explained.

Dana puts into action running an outside set with a cone and verbal cues. Essentially beach volleyball spiking and hitting tips.