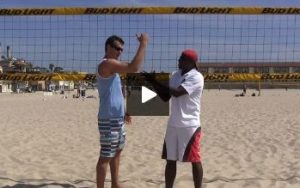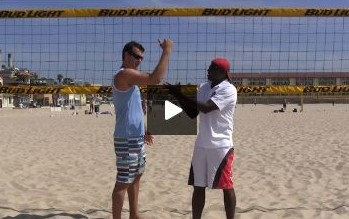 Steve Anderson is one of the most accomplished beach volleyball coaches in the world having won the gold medal with the Australian women's beach team in 2000 and is the current heard coach of Beach Volleyball Canada. In this video series Steve teach correct beach volleyball spiking technique as well as offers tips and secrets for players of all levels on how to hit and spike more successfully on the beach.
The first 5 videos is a progression and goes from demonstration, to arm swing technique, footwork, to strategy tip and secrets. This series is followed by an over 14 minute incredible video between Andor Gyulai – Volleyball1on1 Owner and Founder (Won an NCAA Championship at UCLA, has the #1 Instructional Video in the world on Spiking Technique.) and Steve discussing every part of spiking. This video series is some of the best content we have ever filmed on volleyball1on1 and that says allot as we approach almost 2000 videos on the site currently.
Video 1 is a beach volleyball spiking demonstration. In this video you will see Andor Gyulai doing a demo under Steve tutelage. This is a simple video and shows the basics and acts as a basis for hitting. This video shows the beach volleyball spike from multiple angles including back, 45 degree and side view. This may help junior players get a better perspective on what is good spiking technique and form. This video also offers a good how to spike a volleyball.
Video 2 offers beach coaching and instruction on the arm swing when hitting. This video is broken into two parts and gets in depth with every aspect on the arm swing.
Few key points include:
– Using wrist to create momentum to jump higher
– Using your biceps in not often discussed way so that you create lift
– Understanding power is force times speed and using this to hit hard
– Plus much, much more…
Video 3 gets detailed on spiking footwork. This video will teach you how to get your arm swing in front of the ball. This is one of the most difficult things to do in beach volleyball because you are moving in the sand and dealing with the elements like the wind that can blow the set away from the ideal trajectory.
Video 4 discusses a new concept not before discussed on volleyball1on1 namely the gift circle. Steve came up with the idea talking to another great player and uses it to explain some important concepts that will help with both your offense and your defense. This is another great video and even top AVP and FIVB players can benefit from the concepts shared!
Video 5 is about spiking strategy and secrets Steve has picked up coaching some of the best players in the world. This video is extremely enlightening and will likely change the way you approach your offense or coaching beach spiking and offense forever.