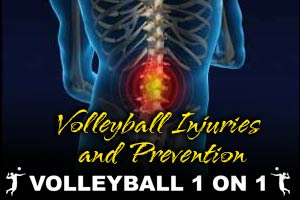 Volleyball injuries are common in a sport with so much action. Here we provide information and resources on knee, back, shoulder, ankle, finger, shin injuries including tips for diagnoses, treatment and avoidance. This area also contains a number of videos on injury prevention.
Volleyball1on1 is excited to offer a Free ProSeries Volleyball Shoulder / Rotator Cuff Ice Wraps to all Gold and Platinum Members. Also enter the coupon code VB1on1 and receive a 20% discount on your next purchase. This is the best Ice Wrap in the market for shoulder rotator cuff injuries from hammering and spiking volley balls. See what volleyball legends below have to say:

Announcing the Ultimate Gold Medal Volleyball Jump Program. So I am super excited to give our paid members access to a new Zero Impact Volleyball Jump Program I have been working on with Gold Medalist Eric Fonoimoana. This program is incredible and has not only helped win a Gold Medal, AVP MVP titles and multiple AVP and FIVB championships.

In this video Bill Ferguson and Andor Gyulai discuss the USC Warm Up and the philosophy around the warm up. This is a good video to watch as it will help you as a coach develop a plan for your volleyball teams warm up.

In this series of 4 instructional volleyball videos and drills we get an in depth look at the Long Beach State volleyball lifting and workout program. This includes the workout, exercises and training the team does! What is interesting in watching these videos is how much the volleyball lifting program has changed over the last few years.

Keeping the shoulder healthy and avoiding volleyball injuries is a concern for all volleyball players. Matt's had multiple shoulder surgeries before the age of 23 and shows how to prevent and recover quickly from injury.

In this series of videos you will see the USA athletic trainer take the players through series of movements and warm ups that work and strengthen all the major components need for volleyball practice or matches. This fast drill is extremely effective and will massively help reduce injury.

Alan Knipe – USA Men's National Team Coach – Practice for World Cup 2011 – In this series of videos you will see and introduction to practice with Alan Knipe as well as you will see get to watch their unique and incredible full body workout and warm up core drill.

This video should be interesting for both players and coaches as it show a number of unique warm up styles and needs. Because all these players are essentially professional players they take ownership of their warm up and have invested in a unique warm up that often best meets their individual needs

Seth presents a 6 video series on hitting with power. Using a bungee cord these exercises greatly increase arm speed and power when spiking a volleyball on both the beach and indoor.

What if you could increase athletic performance by 20% or more? Get your CoreControl $50 Coupon with Volleyball1on1 Membership. The best coupon you will find online for CoreControl period!

Cross training with Ed Ratledge involves another favorite beach activity, surfing.

Volleyball calisthenics is one of the most popular and common ways for top college level NCAA teams to warm up yet few if any high school coaches use it in their practices. In this video you will get to see how UCLA uses this warm up technique in their practice.

[groups_non_member group="Membership"]

In the last few years volleyball warm ups have changed considerably as the science behind the human body has improved. In this video Andor and Al discuss the changes and how it has affected UCLA volleyball warm up.

As a licensed chiropractor Gary demonstrates several lower back stretches that keep players healthy and playing longer. These stretches are the same ones used by Olympic athletes.

1. By stretching the hamstrings they release easier and allow the body to bend at the waist farther.

There are few skills in the sport of volleyball as much fun as volleyball spiking. In this series of videos Andor Gyulai will explain what it takes to have perfect technique and form when hitting a volleyball. This series of videos on the subject are the most popular videos in the world on learning volleyball spiking and hitting technique.

Every volleyball player has to deal with pain and discomfort. Alicia talks about her favorite exercises to keep her back loose and pain free.

Alicia presents her favorite stretches that keep her on the court and prevent injuries. Demonstrated are several apparatus such as foam rollers and mats to stay loose and prevent stiffening up between matches.

Explosive speed and strength is a winning combination. Alicia has an entire series of beach volleyball drills to get to the ball quicker.

This is the only zero impact volleyball jump program available anywhere. As a result of utilizing this program, you can push yourself and your athletes further physically without fear of injury or fatigue.
Volleyball Jump Training is a critical component to competing successfully on the volleyball court. The biggest problem of any well thought out program is that lifting weights.

I want to share this excellent news with our paid members of a project I have been working on with Gold Medalists Eric Fonoimoana and Misty May-Treanor who have developed this phenomenal volleyball stretching mat named TRAINERmat.

TRAINERmat is designed for both indoor and outdoor volleyball fitness. This sport-specific mat features the strengthening and stretching exercises used by professional volleyball players worldwide.

Olympic gold medalist Eric Fonoimoana demonstrates 1 through 5 of the 27 exercises designed by him and fellow gold medalist Misty May-Treanor on the TRAINERmat.

The TRAINERmat is designed for both indoor and outdoor volleyball fitness. This sport-specific mat features the strengthening and stretching exercises used by professional volleyball players worldwide. The mat's 27 exercises are ideal for anyone who wants to improve their sport performance.