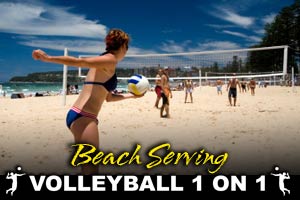 Beach volleyball serving how to advice including tips and techniques for jump serving, overhand serving, float serving, top spin serving, skypball serving, and more. Also advice on how to use the wind to help you with serving strategy and information on how to take advantage of your opponents weaknesses based upon how and where your serve the volleyball.
This video features the players doing warm up hitting lines with Anjinho Bacil during the beach practice. The players are getting more physically ready for the tougher more intensive drills that include more attacking. What I like about this video is it brings up the important point that the passer / hitter should always pass […]

5 Video beach volleyball serving series with Steve Anderson. This post / article features all the videos as well as descriptions for each videos. Steve is an Olympic Gold Medal Coach and Head Coach of Beach Volleyball Canada.

This is a beach volleyball serving demonstration of the float serve. You will see the serve from 3 different angles namely back view, side view and front view.

Video 2 on beach serving, the arm swing that generates great force and accuracy.

This video is a great example of something Stein picked up while competing in Boulder, Colorado on the AVP Pro Tour that really helped him be a better player and get more kills and more aces while playing at altitude. The technique is call the "Goose Neck – Snap it Like a Pig".

In this volleyball coaching video Stein Metzger teaches how and when to serve a deep serve.

In this instructional volleyball coaching series Stein teaches how and why to serve a short serve.

teve presents a video series on serving specifically for beginners. This vast amount of coaching and drills build confidence by breaking down the mechanics and technique for all players to become effective servers. 1. Begin with the correct way to address the ball

I am excited to add Sinjin Smith As our newest instructor on Volleyball1on1.com (4/12/13). Sinjin Smith won 2 National Championships at UCLA and was MVP his senior year. Coming out of college he and Karch dominated the beach volleyball scene as you can see below until Karch left for indoor and the Olympics

In this video beach volleyball legend Sinjin Smith shares some free instructional coaching for beach volleyball serving. This is a great video for players of all levels. This video is sponsor by Honu volleyball sandals.

Seth presents a six video series on how to jump serve in beach volleyball including drills for jumps serving.

Lauren talks about tough serving. Strategies are discussed primarily with making the opponent move to pass the ball.

Serving on the beach shares many strategies with indoor. Pro player Ed Ratledge presents his series of videos on how to serve effectively on the beach.

A simple yoga exercise makes the serve more consistent and accurate. Ed shows how to do this.

The sweet spot is the part of the ball you should focus on to make it jump off the hand. Alicia demonstrates the best way to accomplish this every time.

Anthony loves to talk about of his favorite topics, jump serving. This drill hones skills to score an ace when serving.

Jump serving is the best weapon to score fast points. Anthony walks through step by step on how to become one of the best on the beach. Prepare your take off area and make sure to avoid foot faults by staying far enough behind the end line. Spinning the ball causes it to have more […]

Jump serving is the most powerful and preferred method to score points on the beach. Eric demonstrates how he became an Olympic champion using the jump serve. To view all of Eric Fonoimoana's videos – Click Here!

In this 6 video series Gold Medal coach Steve Anderson teaches the fundamentals of the overhand volleyball serve.