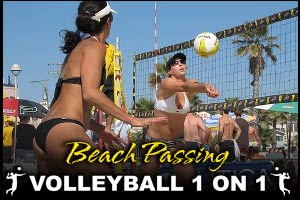 Beach volleyball passing and serve receive information, technique, tips and secrets. This series of videos and drills offers advice on how to be a better volleyball passer and pass nails on the beach. Additional advice includes helpful videos on passing strategy and where you want to pass the ball for your setter and setting up your volleyball offense and spike.
This video was filmed at a recent "Travel to You High School Volleyball Camp". The goal of the video is to share some advanced volleyball passing technique coaching tips and concepts. Left is right, right is wrong, mid-line is best. If the serve is from the right, right is right, left is wrong, mid-line is […]

These two video is part of our VolleyTots series. In these two video Andor Gyulai coaches a youth volleyball passing during a private lesson to two players in grades 1 and 3.

he speed of the serve in volleyball for both the jump float and the top spin jump serve has increased to the point that players have between 0.6 – 1.1 second to react from contact from serve to contact when passing on serve receive. Given this speed the need to improve player reaction on serve […]

"Stepping in Pairs" is a volleyball ques Stein uses to describe moving your feet so that you end up with a wide base and are not "Water Skiing" the opposite verbal which is having a narrow base. This video series contains a great demonstration of the concept as well as some simple drills.

Digging a low ball from a short serve or a ball that goes into the net is extremely common yet very difficult skill to make a "Better Play" on the ball. Learn Stein Metzger Secret called "Drop the Furniture" to change this and make it easy.

Stein Metzger demonstrates how to pass a deep serve in beach volleyball.

In this instructional volleyball coaching series Stein teaches how to pass a short serve in beach volleyball.

In this video series Stein Metzger teaches beach volleyball passing technique. This video show a number of important tips and secrets. 1. Preparing means mentally as well as physically on the court. Envision the next play. Where the ball will go. What your partner will do next.

teve walks beginners step by step through instruction and drills on how to pass like the pros do. Easy to use verbal cues and examples are included to build confidence with game like situations. 1. Footwork progresses from the starting position to moving sideways, backward and forward with efficiency.

I am excited to add Sinjin Smith As our newest instructor on Volleyball1on1.com (4/12/13). Sinjin Smith won 2 National Championships at UCLA and was MVP his senior year. Coming out of college he and Karch dominated the beach volleyball scene as you can see below until Karch left for indoor and the Olympics

This video contains important tips for having success in beach volleyball verses indoor volleyball. The instructor is Sinjin Smith the second most winning-est player in beach volleyball history and who is also in the volleyball hall of fame. This video is sponsor by honu volleyball sandals. See what Sinjin thinks of Honu Sandals here.

Passing on the beach requires passing to a different location than indoor. Matt talks about where to place the ball when passing on the beach.

This beach volleyball and sand drill focuses on passing a ball followed by the technique for a volleyball approach and spike. A few things this drill will help reinforce with good verbal cues: Slow to fast, open up to the ball and contact the ball on your right shoulder.

Priscilla presents a drill on passing the short and deep serve. The drill enforces identifying each serve so that players are not caught off guard.

Priscilla presents a passing drill for moving side to side. Players need to get behind the ball and focus passing straight in front of them.

Passing requires a good platform and correct footwork which indoor middle blockers. Seth explains how to pass effectively.

Lauren presents a six part series on transitioning to the beach from indoor. The most important parts of the game are covered along with strategy.

Lauren discusses and demonstrates serve receive. Details on how to handle a high and fast server are covered.

Dana starts on a passing drill with correct position, staying relaxed and remove indoor tendencies.

Dana builds on what he said before but continues on the theme of correct position, staying relaxed and remove indoor tendencies.

Adriano presents a beginner drill on passing that works on movement with multiple touches and more.

Adriano shows a drill that concentrates on a good pass, good footwork then waiting for the set and more.

Adriano demonstrates a drill with all parts of offense, pass, set and spike.

Adriano shows a triangle drill that works on passing, setting and more.

Adriano runs professional player Matt Prosser through part III of a progression drill. The full series is run with Andor. You can see both players are puffing hard at the end of the drill.