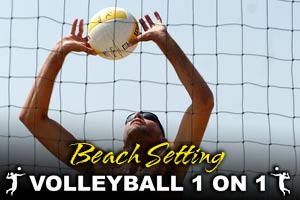 Beach volleyball setting technique, secrets and advice. Helpful resources to help with beach volleyball setting. This includes beach volleyball setting rules, your approach, your footwork, your hand position, your arm and body position and where you are looking when you set your partner. Also information on how to help your partner with their spiking using different sets and strategies to help them better see the block and defense when going up to spike and hit.
This video features a continuation and a progression from the previous spray pass drill. Now players not only have to set a bad spray pass, but in some cases the spray pass is so bad they have to set the ball behind themselves. This video also works on player spacing and helps the attacker with […]

This video features the spray pass setting drill and coaching with Anjinho Bacil. A short low pass is a common error when passing the ball infront of your inside leg however at the height Anjinho recommends however practicing this drill results in an easy fix where the setter can improve the play and get the […]

In this video we share advanced beach volleyball setting technique with Stein Metzger. (UCLA Sand Coach, NCAA MVP, Beach Volleyball Olympian)

In this 5 video beach volleyball setting series Steve Anderson shares some incredible tips, and secrets on how to set successfully. This video series is applicable for players of all ages and levels. This video series is a must for all beach coaches and will likely change the way you teach beach volleyball setting!

"Stepping in Pairs" is a volleyball ques Stein uses to describe moving your feet so that you end up with a wide base and are not "Water Skiing" the opposite verbal which is having a narrow base. This video series contains a great demonstration of the concept as well as some simple drills.

Digging a low ball from a short serve or a ball that goes into the net is extremely common yet very difficult skill to make a "Better Play" on the ball. Learn Stein Metzger Secret called "Drop the Furniture" to change this and make it easy.

Stein presents a six video series on setting for the beach. In these coaching videos correct form is taught along with coaching tips on how to improve beach volleyball setting technique. 1. For footwork start in a neutral position and step straight ahead when the ball is passed. Start by practicing the steps and positioning […]

Steve presents a series of videos on setting for beginners that is easy to understand with instruction and drills that can be put into action with confidence. 1. The most common question is answered on what is a legal versus illegal set with a demonstration on the differences.

I am excited to add Sinjin Smith As our newest instructor on Volleyball1on1.com (4/12/13). Sinjin Smith won 2 National Championships at UCLA and was MVP his senior year. Coming out of college he and Karch dominated the beach volleyball scene as you can see below until Karch left for indoor and the Olympics

In this video, Sinjin Smith, one of volleyball's greatest players offers tips on how to become a better beach volleyball setter.

Matt talks about setting on the beach. The difference between indoor and beach setting is demonstrated. To view all of Matt Fuerbringer's videos – Click Here!

Priscilla talks about transition setting for blockers on the beach plus a transition setting drill. Details include proper footwork for how to pull off the net from both sides whenrunning this beach setting drill.

Setting for a big man on the beach is necessary since very few serves go to the biggest player. In this 6 video series Seth demonstrates how big men can become more effective beach volleyball setters.

Lauren presents a six part series on transitioning to the beach from indoor. The most important parts of the game are covered along with strategy.

Dana works on transition setting for the blocker. The blocker is told how to handle the balls natural backspin when it is dug, plus more.

Part III the players switch positions with Dana making corrections during and after the play. Great to see some of the corrections and verbal ques.

Dana works on how to put topspin on a set with this drill. Great drill for developing bump setting for beach volleyball.

Dana puts into practice the corrections made for the player to have good topspin on the set when bump setting in beach volleyball. A ball with spin is easier to hit.

Adriano runs professional player Matt Prosser through part III of a progression drill. The full series is run with Andor. You can see both players are puffing hard at the end of the drill.

Adriano runs professional player Matt Prosser through part IV of a progression drill. The full series is run with Andor. You can see both players are puffing hard at the end of the drill.