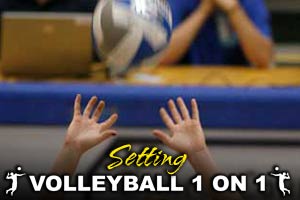 Contains skill information on volleyball setting. This includes specific volleyball technique information on hand setting, including hand position, footwork, body position, vision, eye sequence, verbal ques and more. Also tips, tools and secrets from top volleyball coaches and players to improve setting. These videos are created for players of all skill levels including, youth, beginners, intermediate, high school, club, college and pro players.
Mike demonstrates how to hand set in transition by getting around the ball and push it to the target.

Mike demonstrates how to bump set by getting around behind the ball and bumping it to the target.

Proper volleyball setting can be the make or break factor for just about any volleyball team at any level. Often times the development of this absolutely essential but deceptively tricky volleyball skill is neglected…but it shouldn't be. Learn from 3 Time NCAA Champ Stein Metzger.

Stein presents part 25 of 27 for setters. Shown is a drill for setting the off play.

Stein presents part 24 of 27 for setters. Shown is a drill to be able to set forward or back at the last second.

Stein presents part 20 of 27 for setters. Shown is correct blocking hand position for setters.

Stein presents part 19 of 27 for setters. Shown is correct blocking footwork for setters.

Stein presents part 17 of 27 for setters. Shown are several volleyball setting drills that can be done solo.

Stein presents part 16 of 27 for setters. Discussed is who takes the set after making the dig.

Stein presents part 18 of 27 for setters. Discussed is playing volleyball defense as a setter.

This 52 minute instructional volleyball video focuses on the volleyball skill of setting. Learning to set is one of the most difficult things to do successfully in volleyball. In video will teach both coaches and players this important skill from both aspects. This video is a must for anyone who wants to learn good volleyball setting technique.

Station Drills are one of the most effective way to improve individual skills. The problem with stations is you need space or it is difficult to do. What is so impressive about this practice planning is how they are able to do all these stations and work on all these individual skills on just one volleyball court.

n this video Bill Ferguson goes over "Breakout Sessions" from the early part of practice! The goal during breakout sessions is to work on specific skills and develop the players skills individually. During a breakout sessions coaches focus on individual players and specific volleyball skills for the player. In video 1 we go over Bill and the setter specific drills

Bill Ferguson Team Breakout Sessions – Setting Drills for Volleyball. Also great tips, technique and verbal cues to help coaches teach indoor volleyball setting.

Breakout Sessions are a great way to focus on specific skills for groups of players. In this drill Bill Ferguson focuses on setting for his setters. There are a numbers of great points that these videos make:

Using Visual Imagery to improve and accelerate player growth
11 to 12 Clock Window for Setting

Middles that have the skill to set a volleyball open up more offensive possibilities. Jeff explains the options available in this video and the importance of middle hitters learning to set in transition.