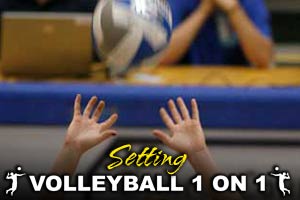 Contains skill information on volleyball setting. This includes specific volleyball technique information on hand setting, including hand position, footwork, body position, vision, eye sequence, verbal ques and more. Also tips, tools and secrets from top volleyball coaches and players to improve setting. These videos are created for players of all skill levels including, youth, beginners, intermediate, high school, club, college and pro players.
This video features Alan Knipe reviewing important volleyball setting "Verbal cues" for setters and non-setters. Great coaches have the ability for players to understand and remember complex motor patterns with easy to understand verbal cues or keys. This video demonstrates why Alan is one of the best coaches in the United States.

This video is from a youth volleyball private lessons with two players in 1st and 3 rd grade, volleyballtots who are learning the game. In this video the players are being coached on setting.

In this VolleyballTots Youth Private Coaching Lessons Andor Gyulai the owner of volleyball1on1 teaches two young players age 5 the skill of setting. The video includes powerful verbal cues, plus other coaching lessons on working and coaching volleyballtots.

This setting drill is final drill in the progression of setting drills and the focus is on decision making and dumping the ball. The players approach from area 4 and then based upon the pass have to decide are they dumping or are they setting. Chris often changes the drills in the series based upon […]

The next progression of the warm up skill building setting drills is the two setters approaching from rotations 1, 3 and 4 in serve receive type format. Each setter sets one ball and then repeats. 4 Balls each for a "In System", "Medium", "Out of System" pass. Focus is getting their feet set then making […]

In this video Chris Austin starts by explaining how they run setting drills and clinics. Then the video follows with a progression of the setting drills with a multi-ball stationary drill. The multi-ball stationary drill basically allows the setter to get a feel of just setting, pulling together what they did in drill 1 – […]

This early practice volleyball setting drill works on just footwork patterns when setting. This drill should be performed before practice or while the rest of the team sets up the nets and warms up. You will notice hand position (Drill 1 in series) is broken up from footwork (Drill 2 in the series). This drill […]

This video features one of our favorite youth volleyball setting drills. We encourage all youth coaches – high school and club to use this or similar drills during the early part of their practice to help develop their setters. Chris is a 2 time NCAA champion starting setter under two of the best coaches in […]

Mike demonstrates how to hand set in transition by getting around the ball and push it to the target.

Mike demonstrates how to bump set by getting around behind the ball and bumping it to the target.

Proper volleyball setting can be the make or break factor for just about any volleyball team at any level. Often times the development of this absolutely essential but deceptively tricky volleyball skill is neglected…but it shouldn't be. Learn from 3 Time NCAA Champ Stein Metzger.

Stein presents part 25 of 27 for setters. Shown is a drill for setting the off play.

Stein presents part 24 of 27 for setters. Shown is a drill to be able to set forward or back at the last second.

Stein presents part 20 of 27 for setters. Shown is correct blocking hand position for setters.

Stein presents part 19 of 27 for setters. Shown is correct blocking footwork for setters.

Stein presents part 17 of 27 for setters. Shown are several volleyball setting drills that can be done solo.

Stein presents part 16 of 27 for setters. Discussed is who takes the set after making the dig.

Stein presents part 18 of 27 for setters. Discussed is playing volleyball defense as a setter.