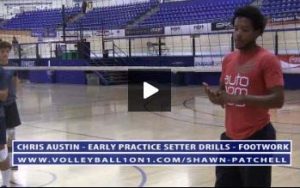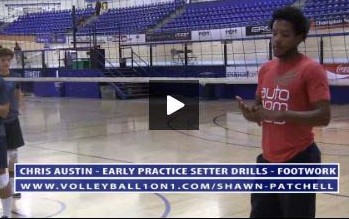 This early practice volleyball setting drill works on just footwork patterns when setting. This drill should be performed before practice or while the rest of the team sets up the nets and warms up. You will notice hand position (Drill 1 in series) is broken up from footwork (Drill 2 in the series).
Coaches should frame footwork as it relates to 3 patterns:
– In System – 2 Steps, Left, Right footwork,
– Medium Pass Footwork – 3 Steps, Right, Left, Right Footwork,
– Out Of System Footwork – 5 Step or Run, Right, Left, Right, Left, Right, or Run, Left, Right.
Ball within 1 Step – In System
Ball 3-5 Feet Away – Medium Pass Footwork
Balls further than 5 Feet – 5 Step Footwork Pattern or Run Left, Right.
Verbal Cues:
– Always lift at the same time
– Always finish square to outside
The setting drill consist of 1 Round for each footwork pattern. Setters move in all 4 directions during each round. So equals 4 – in-system, 4 medium pass footwork, 4 out of system footwork sequences.