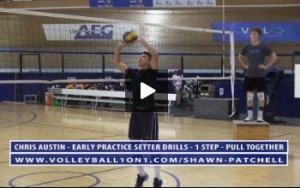 In this video Chris Austin starts by explaining how they run setting drills and clinics. Then the video follows with a progression of the setting drills with a multi-ball stationary drill.
The multi-ball stationary drill basically allows the setter to get a feel of just setting pulling together what they did in drill 1 – where the focus was just hands, and drill 2 – where the focus was just feet. The drill consist of coach tossing 8 balls to the players and the setter setting front or back with an "In system" toss.
Coaches should focus on the mechanics from drill 1 and 2 and make sure all the mechanics are the same. Andor and Chris discuss some of those mechanics in this video again.