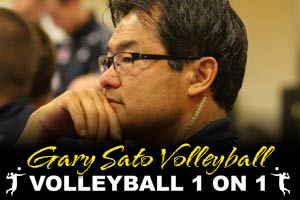 Gary is current Head Coach of the Japanese National Men's Team. Additionally he was the assistant coach for the U.S. men's 1988 Olympic gold medal and 1992 Olympic bronze medal teams and in 2012. He is also a two time NCAA champion assistant coach at Pepperdine and former USA boys under 18 head coach. Gary was also and All-American as a Player in College. Gary comes from a family with a rich volleyball background, his famous famous siblings are Eric Sato and Liane Sato.
In this video USA assistant coach Gary Sato reviews the USA volleyball practice. In video offers great insights into the practice.

Practice for World Cup 2011 – Now the practice culminates in some real games between the top player via for a spot on the team. This is when things get exciting, competitive and close. This series of videos also includes one of best speeches ever about effort and how not everyone can make the team. […]

Gary knows first hand height does not affect the defensive part of the game. This video series discusses the fundamentals to playing defense in various positions. It culminates with what a defenders mindset needs to be. 1. The stance begins in an athletic position with arms out in a neutral place and relaxed.

Blocking in volleyball has evolved as the speed of the game continues to increase. Gold medal coach Gary Sato presents the basics of how to block effectively. 1. Thirds is the basic building blocks of blocking. Each front row player is assigned a specific section of the net.

Over the years Gary has developed a structured system of scouting the opponent's tendencies exposing their strengths and weaknesses. Gary presents in this series tactics used to win Olympic gold and bronze medals. 1. The chart is set up by entering the numbers of the opponents players. Then each players tendencies can be marked.

Gary shows how when a middle quick set slightly changes its location the hitter is open to get a kill.

The overhand dig allows players to cover a larger area of the court. Olympic gold medal coach Gary Sato explains how this move from the beach is applied to the indoor court.

The libero position was created in part because of Gary's little brother Eric, who won gold in the 1988 Olympics. Gary tells how the position is used.

As a licensed chiropractor Gary demonstrates several lower back stretches that keep players healthy and playing longer. These stretches are the same ones used by Olympic athletes. 1. By stretching the hamstrings they release easier and allow the body to bend at the waist farther.

This youth club volleyball practice plan was from a practice we filmed with Gary Sato coaching his daughters club team in Carson California. The videos are extremely insightful as it is not often you get to see a coach of Gary's reputation coach kids at this level.

This drill offers a rare chance for caoches to witness one of the greatest coaches in the world coach youth players. Gary Sato is head coach for Japan Men's Volleyball, on top of this he is Olympic Gold and Bronze Medal Coach. In this series of instructional videos Gary is coaching his daughters club volleyball […]

This series of videos features a youth over the net pepper multi skill volleyball drill with progressions by Gary Sato. This drill is great for beginner and youth players as it is easy to run but yet get all the players involved and learning the fundamental skills of the sport.

Get on the bus, youth and beginners volleyball rotation drill is a great drill to help kids learn the important ideas behind rotating successfully on a volleyball court. The concepts taught in this drill are easy to understand with the result that kids just get it and are able to pick up on ideas far […]

This video series contains the final sequence of volleyball drills with Gary Sato coaching a Juniors Volleyball Practice with his daughter. In this series you will see how Gary ties everything together that he has taught the girls thus far and puts it into action with a real live game.