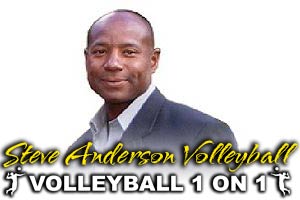 Steve Anderson is the current head coach for Beach Volleyball Canada. Steve was the Olympic gold and bronze medalist coach in 2000 and 1996 with the Australian women's beach team as well as coach of the FIVB co-team of the decade 1990-2000. In addition to playing in the AVP tour himself he has coached both indoor and outdoor volleyball for the past 20 years and is recognized by many as one of the top beach coaches in the world!
In this video you will learn advanced beach volleyball strategy for offense and defense used by the best players in the world including Kerri Walsh and April Ross. This video will offer new insights on running offensive and defensive routes as well as new advanced blocking calls to make this possible. This video includes demo […]

In this video Olympics Gold Medal beach volleyball coach Steve Anderson shares a new hand signal technique he uses for advance players to show not only the block and defense, but also where he would like the player to serve. This is extremely important for advanced beach volleyball strategy where you are looking to force […]

Steve Anderson is one of the most accomplished beach volleyball coaches in the world having won the gold medal with the Australian women's beach team in 2000 and is the current heard coach of Beach Volleyball Canada. In these 6 video series Steve teach correct beach volleyball spiking technique.

This is one of the best videos we have ever filmed on beach volleyball spiking technique. In it Steve and Andor Gyulai (Andor – Has #1 Video in the world on Volleyball Spiking Technique) discuss every detail as it relates to beach spiking!

In this video Steve talk about an important concept for beach volleyball offense, meaning spiking as well as beach defense. This is the concept of the gift circle and understanding when spiking as much as possible to hit outside the circle while on defense to be able to dig every ball in the circle!

Video 2 offers coaching on Arm Swing Technique for beach volleyball spiking with Steve Anderson. This video offers detailed in depth instruction on every aspect of beach volleyball hitting and spiking.

This is video 1 on beach volleyball spiking with Steve Anderson and this video offer a beach spiking demonstration. This video is filmed from multiple angles and offers the basics of beach volleyball spiking technique.

Video 5 on Beach Volleyball Blocking with Steve Anderson is about "Play On the Ball". In this video Steve shares a great volleyball blocking drill he uses to teach effective beach blocking.

This is a 5 videos beach volleyball defense series teaching the skill of defense. It features gold medal coach and head coach of beach volleyball Canada Steve Anderson.

5 Video beach volleyball serving series with Steve Anderson. This post / article features all the videos as well as descriptions for each videos. Steve is an Olympic Gold Medal Coach and Head Coach of Beach Volleyball Canada.

This is a beach volleyball serving demonstration of the float serve. You will see the serve from 3 different angles namely back view, side view and front view.

Video 2 on beach serving, the arm swing that generates great force and accuracy.

In this 5 video beach volleyball setting series Steve Anderson shares some incredible tips, and secrets on how to set successfully. This video series is applicable for players of all ages and levels. This video series is a must for all beach coaches and will likely change the way you teach beach volleyball setting!