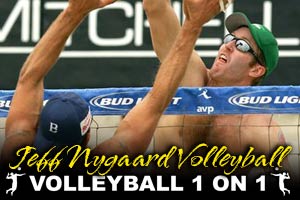 Jeff is a three time Olympian, indoor 1996, 2000 and beach 2004. In addition he is a two time NCAA Champion and two time NCAA MVP at UCLA. In 2003 he was the AVP MVP and awarded the Team of the Year. He is current USC Men's Assistant Coach, that achieved the NCAA finals in 2012.
Bill Ferguson USC Practice, Team Stations – Area 4 Volleyball Blocking Drill. In this drill Jeff Nygaard works with area 4 for blockers on blocking technique.

Middle Blocker Volleyball Defense Drills for Area 5. As part of Bill Ferguson's ongoing goals one area he puts particular focus on is team defense and ball control. As a result of this his team has consistently ranked in the top 5 in the MPFS for digs per game.

This volleyball drill highlights this focus by showing the work the coaching staff does with the middle hitters working on their defense in area 5.

Bill Ferguson and USC Volleyball Practice – Individual Breakout Sessions Jeff Nygaard working on players arm swings.

Jeff presents a series of videos on middle blocking. This set starts with the correct eye sequence, goes through the best form and technique and finishes with advanced reads of the opponents offense.

Jeff shares his insight on middle hitting. This series demonstrates how to be deceptive and beat the blocker to the punch when spiking out the middle.

1. The gap is always placed between area two and area three. Make the approach from the middle position with correct form to maximize power and range to all angles of the court.

The middle front one ball is a very fast attack meant to beat the blocker with quickness and speed. Jeff talks about and demonstrates the correct form for this attack.

The Bic is a very well known play in volleyball that gets its name from Stein Metzger and Jeff Nygaard. Jeff had a direct hand in naming the play while winning two NCAA championships. Here he talks about it and how to run it successfully.

Jeff shows the correct footwork when pulling off the net when playing indoor volleyball as a middle blocker.

In transition and an ideal world everything is three steps. Three steps to the block, three steps to the starting position, three steps on the approach. Jeff shows how it's done.

Staying in control lies between not trying at all and trying too hard. When trying too hard mistakes will be made. Jeff presents a video that mentions fellow Volleyball1on1 instructor Marcin Jagoda.

The back one attack has one difference from it's cousin the middle one. The set is behind the setter. For this adjustment Jeff presents this instructional video series to help middle blockers spike better.

This is a great video and drill where you see exactly how Bill Ferguson and Jeff Nygaard run blocking trips.