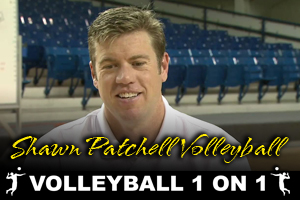 Shawn Patchell is the current Concordia Men's Volleyball Coach as well as the current director of T Street Volleyball club. Shawn has coached professionally in Europe, the USA Men's Team, USA U21 Team, USA Boys Team. On top of this he had an outstanding career as a player leading the NCAA in 1992 in hitting %.
In February of 2014 we traveled to Concordia University to film a practice with coach Shawn Patchell. To be honest at the time we knew little about this incredible coach but after the mind blowing practice and conversations from the office we quickly went and did our homework! Shawn is an incredible coach that has […]

In this video you get a quick tour and introduction to Concordia University, the Men's Volleyball program and its coach Shawn Patchell. The staff at Volleyball1on1 love Concordia University and its talented coaching staff. We highly recommend this school for consideration for any volleyball players.

Concordia Men's Volleyball Start of Practice Meeting and Prey with Shawn Patchell. This is a good opening video that will give players an idea of what it is like to sit in the team meeting at the start of practice at Concordia University. Also for coaches this may offer ideas on running team meetings.

Spiderman dynamic volleyball warm up drill with Shawn Patchell works on stretching the players while immediately getting on the ball. It is a simple drill that works on a skill not often focused on during practice, namely passing low balls, plus it gets the team on the ball and touching the volleyball.

This volleyball movement drill helps with both passing and defensive movement. The drill teaches players to move in all directions without taking a negative step. This drill is great for players of all levels!

Shawn Patchell 10 high, 10 low volleyball defense warm up drill is a great drill to warm up your hitters shoulders plus work on defense and digging a low ball followed by digging a high ball with your hands.

Serving and passing drills are common in all coaches practices however what I really like about the way Shawn Patchell and his coaching staff run this drill is how the coaches use technology and strategic coach placement to maximize individual attention / feedback and player improvement. See all 6 videos of this drill here!

In this drill you will hear important tips and verbal cues from Shawn Patchell for Over the Net Pepper Drill. This post also includes links to other teams including USA Men's team running this drill.

In this video you will get to see how Shawn interacts with his teams and motivates them. This video also provides insights on how good coaches communicate with their players.

Shawn Patchell 5 In, 5 Out of System drill is a drill that works on defense – reading the game and on the offense calibrating their attack. This drill can be run with just 1 coach yet allow the coach to accomplish an incredible amount. This video combines 3 videos for easy viewing.

This series of 5 videos features the 6 on 6 game like portion of practice. The drill is the 4 ball drill that features 2 serves, an out of system attack and then a free ball. The game is scored in such a way that the offense should sideout at 75% to score points while […]

In this video Shawn discusses important points regarding reading the game and volleyball vision. Shawn has worked closely with some of the best in this area of volleyball on the national team and in this video it shows. This videos also brings home some of the important points on vision and blocking that were worked […]

This video features Shawn Patchell discussing the serving and passing drill from practices that uses the Tivo. In this video Shawn describes how he came to use the Tivo as well as talks about many of the other verbal cues he uses for his players that he picked up from volleyball greats like, Alan Knipe […]

In this video Shawn gets detailed and discussed the 6 on 6 player, 4 ball volleyball drill. He breaks down each element of the drill its purpose and what he as a coach is focused on as it relates to verbal cues, player instruction and more. This conversation from the office is very revealing and […]

In this video Shawn Patchell offers volleyball coaching advice on how to connect with your players successfully as a coach. This video offers a great perspective from a top level coach who has coached teams of all levels including high school, club, USA Boys, men's college, USA men's teams and even professional teams.