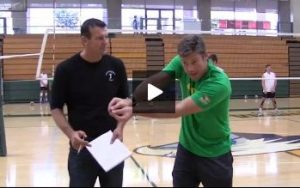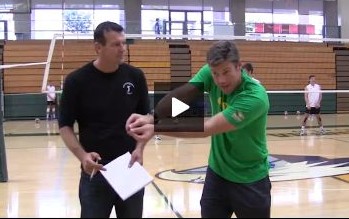 Serving and passing are the two most important skills in volleyball. With the increased effectiveness of teams offenses / sideout the need for tough serving has only increased and with that the need for good passing in order to create an in-system offense. Serving and passing drills are common in all coaches practices however what I really like about the way Shawn Patchell and his coaching staff run this drill is how the coaches use technology and strategic coach placement to maximize individual attention / feedback and player improvement.
Things you will notice about how the drill is run:
– Every player gets to work with Shawn and Brad and get individualized feedback
– The Tivo allows for instant visual feedback on every player
– Studies have shown that visual feedback is best for motor skill learning
– The drill works on passing, serving and also middle setting
This video sequence also includes some of the best volleyball passing instruction that we have ever seen at volleyball1on1.com. If you are a volleyball player or coach you must watch this video if you want to improve how you pass or teach how you pass.
Be sure to check out the full practice we filmed with Shawn Patchell and Concordia. Also for those players or coaches looking for instruction on the skill of indoor passing and indoor serving, click the links.