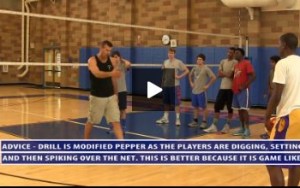 Modified on the net pepper volleyball drill with 3 players is a great multi – skill to follow up 90 passes drill. The drill builds on the work players did to imprint good form in the 90 passes drill and now takes that to a more game like situation on the net. The result is players now work on their passing more like what they will see off a serve receive or a free ball.
Some other reasons we like the drill include:
– Its a good warm up drill for players arm swing.
– Players will work on both lower (Passing & setting) and upper (Hitting under control) ball control.
– All players will have an opportunity to work on their setting.
– Players get to work on their step close for hitting.
– The drill works better with good communication and it does not take long for the players to realize this!

In video 2 the player as a group review the drill and start taking self responsibility for learning. It is impressive to see how quickly you can create a team culture of self learners. Also as the drill progresses Andor starts scoring the players results for the drill. It is worth seeing how much their concentration and results improve once the drill is being scored.