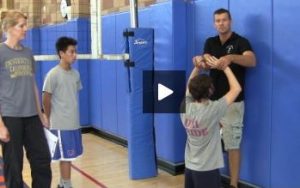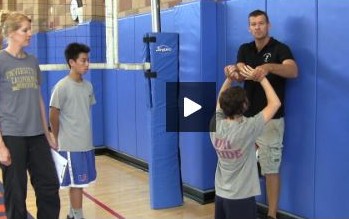 This video features a pre practice setter focused skill building drill Andor likes to run to help setters improve their hands and footwoork technique when setting. This drill was picked up from Chris Austin – 2 Time NCAA Champ Setter from UCI. The setter is the most important player on the court touching the ball almost twice as much as any other player on the court. This drill helps the setter during a time in practice when not much is going on.
Verbal Cues for Hands:
– Lift – Position of the hands as they come up and get ready to set
– Cushion – Position of hands as the ball contacts them and is absorbed after it is passed
– Release – Position of the hands as after cushion when the ball is pushed in the direction of the hitter
Additional Verbal Cues:
– Elbow in line with his ears
– 1 Inch between his index finger and thumb
– Straight line from his elbow to his middle finger
– Cushion with just the wrist, rest arms stay same,
– Finishes, come through with thumb, arms finish extended, still inline with the ears, and the hands finish as they started flat.
Verbal Cues for Footwork:
Coaches should frame footwork as it relates to 3 patterns:
– In System – 2 Steps, Left, Right footwork,
– Medium Pass Footwork – 3 Steps, Right, Left, Right Footwork,
– Out Of System Footwork – 5 Step or Run, Right, Left, Right, Left, Right, or Run, Left, Right.
Ball within 1 Step – In System
Ball 3-5 Feet Away – Medium Pass Footwork
Balls further than 5 Feet – 5 Step Footwork Pattern or Run Left, Right.
Verbal Cues:
– Always lift at the same time
– Always finish square to outside
The setting drill consist of 1 Round for each footwork pattern. Setters move in all 4 directions during each round. So equals 4 – in-system, 4 medium pass footwork, 4 out of system footwork sequences.
To see more indoor setting drillsor beach setting drills or more indoor setter skill videos or beach setting skill videos click the links.