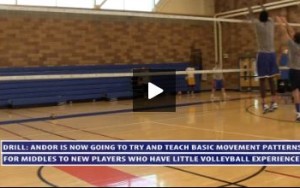 This series of 3 videos follows 2 drills Andor sets up for the players. The drills divide the outsides and liberos on one court to work on serving and passing while on the other court Andor takes the middles and setters to work of movement patterns. This video series is really basic in nature and is designed for players very new to the game. In this case Uni High has several players that have just started playing volleyball, meaning they have played for a year or two, yet they are extremely athletic. This drill works to teach how to be an effective middle player.

What coaches will learn in this drill includes:
– How to design and progress a drill to teach middle movement patterns for blocking and spiking.
– How to create special skill building sessions where you can break the players into specific groups to work on specific skills.
– How to communicate using the Socratic method to create an environment of self learning by the players.

This drill is part of the tutor sessions of practice where the goal is to tutor the players on specific skills where the coach feels they need help.