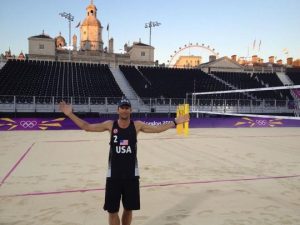 Today Olympic favorites -Jake Gibb and Sean Rosenthal lost to a lessor seeded Polish team in an epic battle in London. The commentators called the match an upset which in all regards it was but if you watched the match you would know that the better team won. Sure, Jake and Rosie have a better track record and are seeded higher, but at that time and place there was no arguing that the better players were the Polish Team.
The point here is that to play the sport you have to truly love the game. It is not a lucrative endeavor by any means and its passion that makes players get up every day and practice. Coaching is rare and support is rarer so in order to excel in beach volleyball you have to be self motivated and committed. The road map is there- you can download and sign up to all sorts of informative sights but its up to you to do the walking. And those that do the walking are to be found on the beaches giving back. It isn't rare in our sport to find a top ranked player out there on the beach coaching and helping an up and comer.
Perhaps what sets this sport apart from others is this concept of service.  Maybe because the money is lacking, the passion is there. It would be rare to find beach volleyball players in a lockout or argument with a federation. In fact it's usually the federations that are instigating the troubles in our sport. The players just want to play. Currently in the United States there are five competing tours going strong. Players still travel across the country to compete in any tournament they can – regardless of diminishing returns.