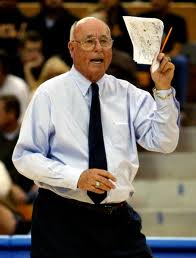 Al Scates UCLA Mens Head Coach – all time most NCAA men's volleyball championships
Practice Plan #1 – Part 9 of 11

Office Interview Video 5 – A frank discussion of the free ball drill was won by the second team and how that will affect switching players between the first and second team.
Office Interview Video 6 – Al talks about his years as a student to be an electrical engineer lead to him getting into coaching. Extras are about his upcoming retirement and future both on and off the court.
Office Interview Video 7 – Al tells fun anecdotes about the best player he ever coached and how his defense was noted before his offense. More is told of how the UCLA team won the World Cup and why the 6-2 offense can't win anymore in men's volleyball.
Office Interview Video 8 – Al talks about his many titles and why the 1974 squad is a favorite with the final broadcast on national television and the height of his best player. Plus his outlook on pro leagues in the US.
[/groups_member]