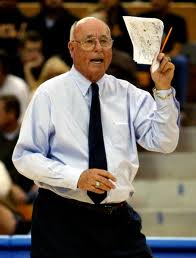 Al Scates UCLA Mens Head Coach – all time most NCAA men's volleyball championships
Practice Plan #1 – Part 8 of 11 – Conversations from the Office

Office Interview Video 1 – Al discusses how warm ups, conditioning and why the circle drill is no longer used and changes due to rally scoring in 2000.
Office Interview Video 2 – Al explains how early season practices concentrate on serving and blocking to improve serve percentages and responsibility of area 4 blockers.
Office Interview Video 3 – Recap of how to use the roundhouse hit and techniques of the joust in game like situations.
Office Interview Video 4 – Al tells how the 17 8 drill increases earned sideout percentages and how the setter can work on creating good matchups.
[/groups_member]