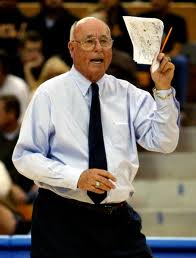 Al Scates UCLA Mens Head Coach – all time most NCAA men's volleyball championships
Practice Plan #1 – Part 10 of 11 – More Stories From Al Scates plus advice for players and coaches
Office Interview Video 9 – Al reflects on his mentors and how they taught him to make it fun for the players to come to practice. Plus how a mentor made him concentrate on getting his masters degree and his relationship with legendary basketball coach John Wooden.

Office Interview Video 10 – Al gives his best tips on how much to allow for a player to have their own style while playing and when to make lineup changes.
Office Interview Video 11 – Al talks of how changes to the rules and interpretations of the rules change his tactics of how players are used.
Office Interview Video 12 – – Al gives his best advice for girls and boys players who want to reach the collegiate level on a scholarship. What traits he looks for in a winning player and how often he vs his assistant coaches view videos of players they recruit. Plus what club and high school players should do when faced with playing on a poor team vs sitting the bench on a good team.
Office Interview Video 13 – Al talks about one of his undefeated teams.
[/groups_member]