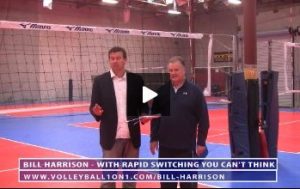 In this video Dr.Bill Harrison discusses how the rapid switching of your eyes stops thinking and forces only seeing. This is an extremely powerful concept that can be used by players to eliminate the focus on past errors that just happened and rather focus on the coming next play.
If you do not understand why you do not want your players thinking and only seeing please see this video with Dr. Bill Harrison on "The Zone"!
Click Here – To see how Volleyball1on1.com owner uses the technique on serve receive to get in the zone!