Hi, I'm Stein Metzger 2004 Olympian, 18 time winner on the AVP and FIVB Beach volleyball tours.
The shot I am most famous for in beach volleyball, the Steino or pokey! The pokey is a shot that I have used to get me out of trouble and put the ball down over the biggest blockers (Phil Dalhausser in the picture below) and some of the best defenders such as Todd Rogers.
To see more volleyball tips and secrets click the links.
The technique that I use to perfect the Steino pokey is to make sure that I make contact with the ball with three fingers including my thumb instead of just two. What this does is give me a large triangle on contact verses a small rectangle that I would get if only using two fingers. A larger contact area means more control; more control means a greater ability to put the ball over and around the block and down on defenders. By far the most important benefit of the Steino pokey is the ability to have greater ball control by having a larger surface area on the point of contact on the ball.
This shot has won me a lot of money and fame but the reality is that true credit for this shot should be given to Anjinho Bacil who taught it to me. Anjinho is perhaps one of the greatest players ever to play the game given his physical attributes. The pokey was just one of his secret weapons that allowed him to play at such a high level even though he was not the tallest. He was a great jumper and a fantastic athlete!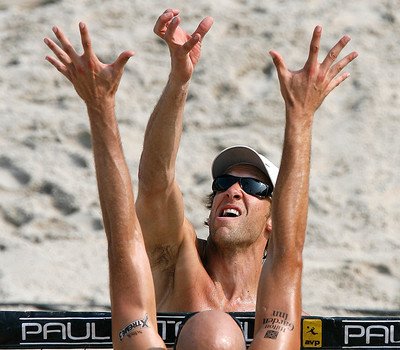 To see more of my videos and drills on volleyball1on1 by Stein Metzger click the link.