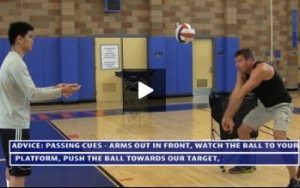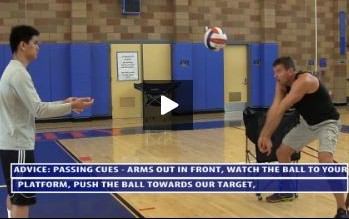 The 90 Passes skill building warm up drill is a great drill to teach players concentration, while warming them up focusing on the important skill of passing. What the drill is able to accomplish is a high number of reps (90 For each player) in a really short period of time with very specific focuses, while passing from different points on the volleyball court and onto the net.
This drill is created to really stress fundamentals with really active feedback / verbal cues from the coaching staff to really help players perfect their technique. Verbal coaching cues should include:
– Wide base / No water skiing.
– 1 Foot slightly in front of the other
– Feet face straight ahead.
– Drop your butt back. This does two things, 1 create space between the platform and the body and this can give the players more time to make adjustments. Additionally forces the players into correct movement patterns activating their gluts / butt muscles verses their quads. This means better movement and stronger more efficiently moving players.
– Create space between your platform and your body.
– Thumbs parallel.
– Point your thumbs down.
– Shrug your shoulders
– Watch the bottom of the ball. This is where you are going to pass it and should watch!
– Be balanced though your mid line.
– Try pass the ball on mid line.
– 3 Steps on movement, a lean can be considered a step. This is critical later on faster serves.
Additional important points regarding this drill:
– Teach your players how to toss the ball.
– The toss can later be progressed to be similar to a tip or dink shot.
– This drill can be progressed to include other movement patterns and sequences, but is a time where players and coaches can rally stress perfect form for muscle memory so that that muscle memory can be later used in even more game like situations.
Also worth noting is the drill Andor Gyulai runs post this drill. It builds on this drill and makes it even more game like with the ball coming over the net before the player passes it. Also it brings in a hit after the pass to increase the player concentration. Where possible high rep drills like the 90 pass drill should be followed up with more game like drills to increase transfer in players.
For more advanced players and coaches, check out the video where Andor shares; PRESERVE PASSING ROUTINE to Help Get Players in the Zone!