Announcing the Ultimate Gold Medal Volleyball Jump Program. So I am super excited to give our paid members access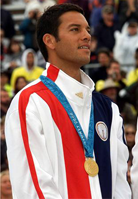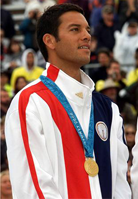 to a new Zero Impact Volleyball Jump Program I have been working on with Gold Medalist Eric Fonoimoana. This program is incredible and has not only helped win a Gold Medal, AVP MVP titles and multiple AVP and FIVB championships. It has also helped train arguably the #1 High School Volleyball Program in country namely the Mira Costa High School Volleyball Program to winning multiple CIF championships for both boys and girls!
This is the only zero impact volleyball jump program out there. As a result you push yourself and your athletes further physically without fear of injury or injury from fatigue.
Volleyball Jump Training is a critical component to competing successfully on the volleyball court. The biggest problem of any well thought out program be that lifting weights, running stairs, or doing box jumps is the brutal impact it can have on your joints resulting in increase chance of injury. This said I am super excited to share with you a secret Volleyball Jump Training Program used by Olympic Gold Medalist Eric Fonoi as well as arguable the #1 High School Volleyball Program in the country, name Mira Costa High School Volleyball.
Benefits of Eric's Volleyball Jump Program
How this program works is that it utilizes the buoyancy of water to reduce the stress on your joints! What this allows you to do is:
Workout longer
Push harder during your volleyball workouts
Do jump training without stress on joints or fear of injury
Train on your rest days meaning after tournament Fri, Sat, Sun and still bounce back and workout on Monday!
Take proactive steps to systematically increase your volleyball career
Outlast your opponents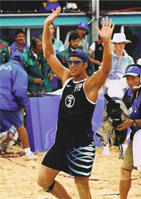 Now I know some of you are thinking this is too good to be true. Well I was chatting with Eric about this program and he flat out says this is one of the #1 reasons he was able to compete at the high level that he did and for as long as he did.
Most people don't know this but while competing in indoor volleyball as an All-American in College at Santa Barbara Eric suffered from terrible tendinitis in his knees. This pain was so bad that he considered quitting the game. Fortunately he started working with Tim, the head trainer at Mira Costa High School (his former Alma-Ata) and together they came up with this incredible program!
Now for those of you questioning if this jump program works…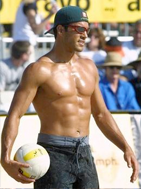 Eric was known as "The Body" on the AVP and FIVB tour. It was a well known fact that he could outlast anyone and his jumping ability is second to none. For example he was part of the last Olympic winning team where he and his partner both blocked. Considering he is only 6'1″ this is a mammoth accomplishment. On top of this he is one of the few if only recent 6'1″ – Two Time AVP MVP's that blocked as well as played defense!
This Jump Program includes 16 Instructional Videos as well as Eric's and Tim's 6 week Preseason Workout Strategy! Perfect to get you back in shape before the Summer Beach Season!
Time to hit the pools, good luck!


Here are some inspirational videos for your viewing pleasure!
Olympic Dream Come True Part 1
Olympic Dream Come True Part 2