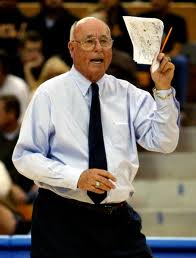 Al Scates UCLA Mens Head Coach – all time most NCAA men's volleyball championships
Practice Plan #1 – Part 6 of 11 – Free ball and wash drills (5 videos)


Free Ball Video 1 – Drill with a lot of repetition. When a team wins a point they get a free ball. First team to 8 points can rotate. First team to rotate through all positions wins.
Free Ball Video 2 – Different angle of the same drill.
Wash Drill Video 1 – Simple wash drill to end the practice.
Wash Drill Video 2 – Behind the blue curtain. A view of what happens to players who are sent behind the blue curtain for specialized coaching. Check out Stein's video on leadership and how he sent a player behind the blue curtain.
Wash Drill Video 3 – Al wraps up the drill and practice with this high conditioning drill. Also lends insight on changes that will be made between the first and second team.
[/groups_member]