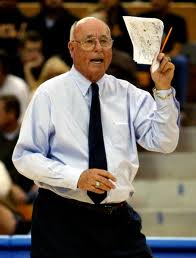 Al Scates UCLA Mens Head Coach – all time most NCAA men's volleyball championships
Practice Plan #1 – Part 5 of 11 – 17-8 Drill


17-8 Video 1 – Drill where servers have to score 8 points vs receivers scoring 17 points.
17-8 Video 2 – Background of the strength of this years UCLA squad with current members on the USA and Argentina national teams.
17-8 Video 3 – A free ball is tossed in on a missed serve with coaches focusing on covering the hitters then moving back to play defense.
17-8 Video 4 – Al discusses how the area 2 blocker is too late and adjustments to the indoor game after playing on the beach all summer.
17-8 Video 5 – The drill is through almost 4 rotations with the goal to sideout at 66%.

17-8 Video 6 – Recap of the drill is how setters can think about matchups though each rotation.
[/groups_member]