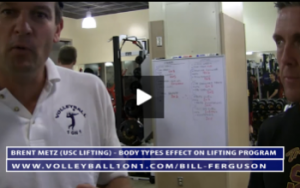 This 7 video series features the post practice USC Men's Volleyball lifting session with strength and conditioning coach Brent Mentz. This series is extremely powerful and revealing and you will get to see everything from what type of exercises the players do to their reps and how the coach changes lifts based upon athlete age and body type.

Also revealed are important concepts like how the coach works past injuries, including jumper's knee (patellar tendonitis). This video is a must see for all higher level players and coaches

Click the links to see more volleyball lifting and training videos.