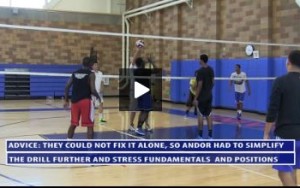 Andor has taken over practice and has modified the offensive drill he was running into a simple exchange drill. The change was based upon the skill and ball control of the players. This series of 3 videos is extremely revealing and shows how many important points are made with regard to good coaching.
In video 2 Andor simplifies the drill even further because of the skill and understanding of the players. This results in a extremely intensive, high verbal cue drill that stresses fundamentals, movement, and understanding of positions and roles on the court. The drill can be modified for juniors where coaches run the drill as shown in video 2 first. Then run the drill in video 1 and then video 3.
Video 3 increases the skill of the drill and progresses the drill from video 1 where the coach enters the free ball in a different way.