This is great easy drill that can be used to focus on and individual players defense and spiking or multiple outside hitters defense and transition to spiking. This drill can be done with just one player or as a team with multiple players.
Keys to Success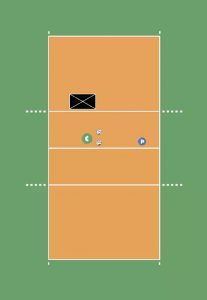 1)      Good blocking to defense transition footwork.
2)      Calling for the ball and focus on a settable ball from defense.
3)      Successfully transitioning outside the court to be ready to approach and spike.
4)      Focusing on good form in the spike.
Volleyball Drills Spiking Overview
Time: 3-15 minutes
# Players: 1-14
Balls: 2 or more
Skills: Defense, passing, spiking, and transition spiking
Level: Beginner to Intermediate
Related: Volleyball Drills,
Objective: Use repetition to practice from defense to offense. Work on players ability to pull of the net effectively and play defense and then move outside the court for a full approach.


Drill Details
1)      Hitter starts at the net.
2)      Coach slaps ball and player transitions to defense.
3)      Coach hits a ball to the player.
Vary the hit, for dink, shot or power.
Vary the hitter location, starting location of the coach.
4)      Coach tosses a ball to the hitter.
5)      Repeat a set number of times (5, 10, 15 Reps ).
Variations:
Have the players run the drill from Position 2 as well as 4. (Laid out in the Diagram is 4)
Close a part of the court to the hitter – Force them to hit line or angle.
Add blocker(s)
Add team on the other side and set side-out goals for the hitter, meaning they have to side out at a certain %.
Have the coach toss the ball to the other team that the player is siding out to and have them pass the ball over as a free ball to a specific area.
Have the coach toss the ball to the blockers on the other team and have them throw the ball down to the player playing defense and then have them transition to spiking.
Have the player spike both balls, the defense ball plus the set.
[/groups_member]