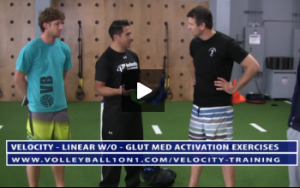 This video contains part of the warm up. This includes glut med activation exercises used to warm up critical areas of the body as well as increase the heart rate. This exercise can also be used to help identify weaknesses, imbalances and potential future injuries. Experienced instructors can use this exercise to also identify and modify the workout as needed.
These are the same exercises and bands used by top players like Phil Dalhausser and Sean Rosenthal to warmup on the beach before practice and tournaments.
To purchase the bands cheaply visit www.performbetter.com
Click the link to see more volleyball training and workout videos.