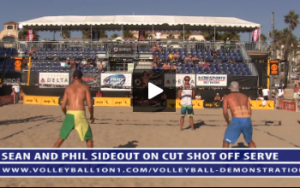 In this 7 Angle volleyball demonstration, Sean Rosenthal and Olympics Gold medalist sideout on a cut shot off serve receive. Sean is spiking / attacking with Phil setting.
What you should try and observe in this 7 angle demonstration:
– Firstly notice Sean passing form. How he absorbs and uses his legs to redirect the ball.
– Notice the location of the pass is infront of him not in the middle of the court, this gives him ideal vision on what the defense is doing.
– The location of the pass also sets up his offense and the shots he would like to go after. It creates the angles he likes.
– Phil approach on his set, he is square to the target and where he would like to set the ball.
– The set is an up and down set in between Phil and Sean.
– Sean does not give away the shot, he approaches as if attacking hard as well as his arm swing is similar till the last minute as a hard attack.
Click the links for Demonstration videos with Kerri Walsh Jennings and April Ross.
Also this is a new area for us and we would greatly appreciate comments and feedback on the four different video below. The content in all 4 videos are the same however the styling is different, please let us know which video you like best and why with your comments below.


Please be sure to comment below on your thoughts on which editing style you like the most.