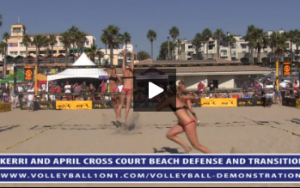 This 7 Angle volleyball demonstration includes Olympic Gold and Silver Medalist Kerri Walsh and April Ross. This is the first tournament the two played together in Huntington Beach, CA for the AVP Tour in 2013. This video demonstration features a angle block by Kerri Walsh Jennings with April Ross playing defense and running the line, followed by a transition set and hit.

Insights you will see from the 7 angle demonstration:
– Kerri makes a strong move and seals off the hard angle hit.
– April does not move early thus letting the defender think the line is open when they look down at how the defense is set up on the initial approach.
– April hips are open allowing for easy movement to the angle area.
– April takes a large cross over step to move into the open part of the court.
– April watches the hitter as she moves.
– April forces the ball up on the dig.
– Kerri opens up to the side where the ball passed to transition set.
– April gets far outside and creates space between the two players thus creating a setting window. (Click the link for Stein Metzger coaching videos on beach volleyball spacing)
– April on her approach takes her eye off the ball and takes a look at the defense looking for defense's set up.

Click Here for more volleyball demonstrations

Also this is a new area for us and we would greatly appreciate comments and feedback on this video below.