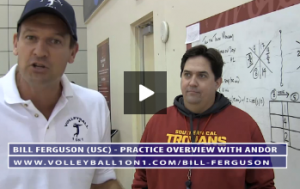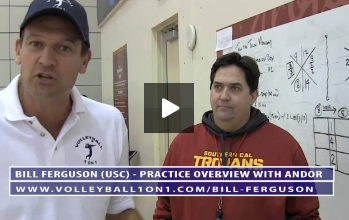 This video offers a practice overview with Bill Ferguson of USC. This video highlights the theme of the practice namely tell the truth Monday and in the practice breakdown you will see how concepts from the war room video session come through into skill building ideas for practice.
Areas of focus for the practice include:
– Passers stepping to the ball instead of leaning
– Blocking technique which is a work in progress
– High ball hitting with a 3 man block
– Middle hitting technique from certain spots on court
– Finally some siding out and defense
This video also highlights what makes USC such a great program to play volleyball for in that there are few programs that offer players such individualized coaching.
Bill Ferguson – Volleyball Practice Plan Overview From Practice 3, 2014