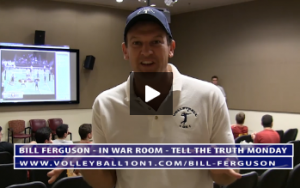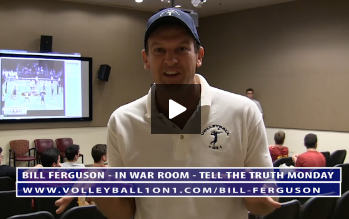 In this video you will get to see Bill Ferguson and USC Men's Volleyball coaching war room. In this room the team watches video and discusses strategy. Although they asked us not to film the sessions this video is still extremely revealing and will offer you players a unique insight into what it is like playing DI Men's College Volleyball. For coaches this video also shows the importance of using video to analysis you team and each players individual skills. It is said the best way to teach someone what they are doing wrong is to demo it or show them with video.

This video also shows how Bill try's to put theme to certain days where possible. Tell the Truth Monday is basically the Monday after weekend matches and now the players get to watch video and see the truth of their performance.

Volleyball1on1 is excited to offer some valuable resources to help all coaches with video analysis. We have partnered with StatEasy to offer all coaches free Video Analysis Software that also keeps stats. This software is a breeze to use and a must for all coaches, especially because it is free!

Also be sure to see some of the other Practice Plans we filmed with Bill Ferguson!