This is practice 1 of 2 by NCAA LMU Head Volleyball Coach – Tom Black. Tom has worked with us before here at volleyball1on1.com.
Last year we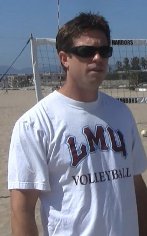 filmed two full indoor volleyball practices with Tom including an interview from his office where we asked a ton of questions on coaching and volleyball. After review Tom was nothing short of remarkable and I can easily make the case he is the best young coach indoor that we have yet  filmed.
So with this in mind when Tom told me he was winding down the first ever NCAA Women's Beach Volleyball season and asked whether I would like to film him coaching Beach Volleyball I naturally jump on the opportunity. For me it was a great opportunity to learn more about Women's NCAA Volleyball as well as share with you info on becoming a better beach volleyball coach and player.
In this first practice there were a number of things worth learning and sharing.
1) How the team warmups are run – The main goal is touches on the ball and this idea of specificity.
2) Running a beach practice with a squad 10+ players verses more common beach practices of 2-4 players.
3) Volleyball Drills, Videos and Coaching to help improve your or your players approach and spiking.
4) Beach Volleyball Drills, Videos and Coaching to help improve your or your teams setting and passing.
5) How to run a beach practice start to finish.
6) How to wrap up a negative practice in a positive light.
These are just some of the valuable volleyball lessons in this series of 19 videos. I encourage all of you to watch all of them.
– Andor Gyulai (Owner – Volleyball1on1.com)
Tom's impressive resume includes LMU, Loyola Marymount University Women's Head Coach from 2010 and special consultant to the US women's national team. In 2005-10 Tom Black was UCSD women's head coach going 115-29 .799, four consecutive postseason appearances and three AVCA All-American's in 2009. This is a school record that still stands. From 2004-05 Tom was the USC men's assistant coach. 2002-03 Pierce Junior College mens head coach 32-5 .865.
Beyond coaching Tom played at UCSD earning volleyball All-American honors and graduating as a political science major.