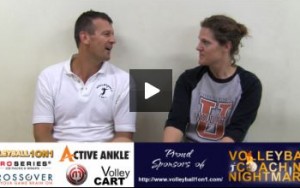 This is the final video from Practice 1 of Volleyball Coaching Nightmares. In this video Andor and Kerri discuss and review the first practice at Uni High school and discuss what Kerri learned by observing and watching Andor coach.

This video is extremely revealing and it shows how much a coach can learn even from just 1 session of getting help. Also this video will help reveal skills most teachers / coaches already possess that are often forgotten or not used when coaching volleyball. This video also goes over many important coaching and teaching principals that all coaches should try to incorporate into their coaching to help their student athletes develop as people.

This video is guaranteed to make you a better high school / club / juniors coach.