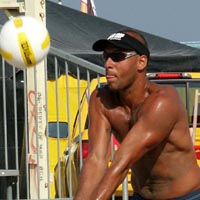 He was the first foreign born player to win an AVP event. Stein Metzger gives him credit for teaching what is now known as the Steino Pokey Shot!
Earned his first outdoor domestic title in 2001 with Scott Ayakatubby at Huntington Beach. Won his first AVP event with Jose Loiola in 1995 indoors at Washington, DC. Was a two-time Brazilian Beach Volleyball Champion 1990 and 1991. Won the South American Beach Volleyball Championship in 1993. Played on the Brazilian professional indoor league for three seasons and was on the Brazilian National Team 1986-1992.
Currently coaches beach volleyball.
His full name is Eduardo Jorge Bacil Filho, and is nicknamed Anjinho, which means "Little Angel" in Portuguese. A native of Copacabana Beach, Rio de Janeiro, Brazil he has three children; Reagan, Jackson and Dominique. He enjoys soccer, surfing, listening to music (favorite group is Sublime), and having "churrasco" which means BBQ in Portuguese with friends. His favorite movie is Gladiator and favorite TV show is CSI.