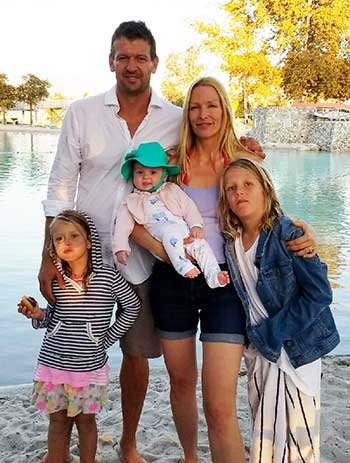 Andor Gyulai and Vanessa Summers launched Volleyball1on1.com in 2009. They are business and life partners for 14 years and happily married now for over 11 years!
Together, Andor and Vanessa invite you to experience and benefit from Volleyball1on1.com's "Club Clinic" and Summer "Travel To You" Camps and the ultimate online volleyball resource for players and coaches, Volleyball1on1.com
Andor and Vanessa enjoy parenting their three amazing kids: Thor (10), Veda (6), and Charlie (2) along with exploring delicious dining, healthy living, beach volleyball, and other fun activities as a couple and family.
They are passionate about 'giving back' through their charitable work and donations to education, women, children, and pet rescue foundations. Additionally, they enjoy bbq'ing with their family and friends at their beach-side home in Marina Del Rey with their two rescue 'hot dogs'.

Volleyball1on1.com Club Clinics and Summer "Travel To You" Camps: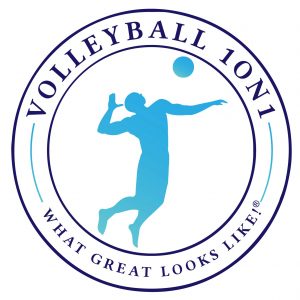 We are the only organization that offers both comprehensive coaches' training and player's camps in one comprehensive successful proven system during your 4-day camp session.
Volleyball1on1.com is also the only program that offers an entire system from how teams play on the court, to team culture, to the Volleyball1on1.com coaching standard that is launched and established throughout our comprehensive camps. Additional value-ad program items include: helping you build your culture & program, the ongoing management, the coaches clinic, "It's Bigger Than Volleyball" ™ Coaching System" , "Keep Playing Volleyball" ™ Coaching System, "What Great Look's Like" ® "Superior Coaching System" ™, complimentary middle school program, and more.

Volleyball1on1.com is the #1 Volleyball Video coaching Website in the World.
"My vision with Volleyball1on1.com is to give volleyball coaches and players around the world instant access to easy to consume instructional videos, drills, practice plans, training / workouts, online courses, and online lessons / evaluations from the absolute best players and coaches in the world. Growing up outside the United States in South Africa, I never had access to coaching from the best. Now Volleyball1on1.com has changed that forever! With Volleyball1on1.com you can have coaching legends, Olympic gold medalists, NCAA MVP's, AVP and FIVB beach champions personally share their insider secrets that made them and their players the best! There is simply no better resource for learning beach and indoor volleyball online!" – Andor Gyulai, Founder & Owner of Volleyball1on1.com.

More About Andor Gyulai….
Andor Gyulai is a pioneer as an expert coach in the sport of volleyball with over 50,000 hours developing groundbreaking coaching curriculum and on-site extensive coaching experience. Andor has over 24 years of coaching experience having started coaching at the age of 16 as the Head Coach of his high school.
Andor has filmed and edited over 3000 educational videos exclusively for Volleyball1on1.com with the best players and coaches in the world sharing with him their insider tips, techniques, winning strategies, and much more. Volleyball1on1.com educational videos are applicable as a player or to real life coaching of youth, juniors, high school, club and college / university for indoor and beach.
Andor Gyulai won an NCAA National Volleyball Championship in '98 at University of California Los Angeles (UCLA), and was runner up in '97. At sixteen Andor began coaching volleyball students at his school in Durban, South Africa. Andor had been playing the sport for two years with passion with his state provincial team and he quickly knew more than his high school coaches. As a result he was the Captain and Head Coach his junior and senior year in high school where they went undefeated his senior year and became the best team in the province / state.
During his college days at UCLA, Andor continued to coach extensively including head high school coaching positions, coaching club, and coaching all of UCLA volleyball recreational classes and recreational camps.
Andor launched and managed his junior year the Antelope Valley Springbok Volleyball Club. At his club he continued to refine his volleyball coaching knowledge whereby he lead ten teams per year in practice and many also during tournaments. Several of the players were recruited to play at top D1 schools in the NCAA, a first for an area not known for its volleyball talent before his clubs arrival.
Andor's top player at just 6'1 started at every position except middle on Santa Barbara D1 Men's Team and was named athlete of the year for Santa Barbara University his senior year.

More About Vanessa Summers….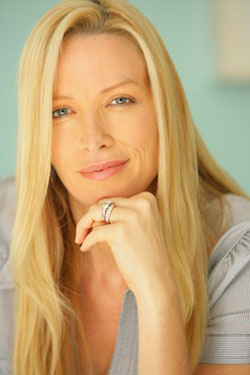 Vanessa Summers is a former Registered Investment Advisor and is recognized for identifying timely investment and strategic opportunities, translating complex issues into simple, actionable and successful strategies, building consensus, and working collaboratively to deliver great results. Vanessa consistently surpasses challenging financial, business, and investment objectives while exceeding client expectations. Repeat and referral business have been a cornerstone of her overall ongoing success.
Prior to 2009, Vanessa along with Andor ran a Los Angeles based multi-million dollar business seminar company with Jairek Robbins, son of the mega motivational speaker Tony Robbins (Coach / Advisor To Bill Clinton, Oprah, Mother Theresa).
Vanessa is author of three financial books, "The Girl's Guide to Money & Investing", "Buying Solo – The Single Woman's Guide to Buying a Home", "The Yoga of Money". She has been profiled on television shows, such as NBC, CBS, Fox, and CNBC. Vanessa began her career in finance in her 20's in Hong Kong as a stockbroker trading millions of dollars a day in Southeast Asian equity for US funds such as: Soros, Fidelity, and T. Rowe Price.
Vanessa's journey has been filled with many significant achievements: from a top ranked teen tennis star in Florida competing against Jennifer Capriatti and Mary Jo Fernandez, to hi-fashion model in Paris and New York alongside Charlize Theron and Tyra Banks.