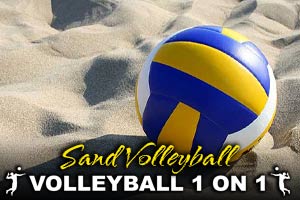 Volleyball1on1.com offers sand volleyball information including Women's NCAA Sand Volleyball resources. Information includes, how to play, rules, court set up cost and more. Also sand volleyball drills, coaching advice, and instructional beach volleyball video on passing, setting, spiking blocking, defense, serving and strategy. There is no site on the internet that offers more sand and beach volleyball coaching advice.
This video contains volleyball coaching advice for beach volleyball blocking. Additionally Pedro gives us a quick review of the players skill level and some thought on things the players should improve. Please keep in mind all the players except Andor Gyulai (Volleyball1on1 Owner) have represented United States for Beach Volleyball. What this means is you […]

This 3rd beach volleyball drill (In Pedro Brazao Practice) is a 2 ball beach volleyball defense drill featuring a line block and angle defense with beach volleyball coach Pedro Brazao attacking from a bench to simulate a real attack. The players play the defense out off the dig but not off the block. The players […]

I would like to share an easy to use and easy understand example of how to OODA Loop your opponent using Hick's law. This example was used on me initially quite effectively by my good friend Colin Pockock (Age 44) in South Africa who is a former beach volleyball Olympian who took a 9th at […]

In this video Jason Lockhead points out a common mistake most players make with their dominant vs. their non dominant hand when blocking. Its simple to fix and can have a huge impact but players need to be conscious of it and focus on it! In this video Jason also talks about what your hands […]

This video features more of Jason Lockhead's Superman Defense Technique plus insightful ideas to help players with what is the correct mindset when playing beach defense. This video again demonstrates that great teachers / coaches have the ability to simplify the game and focus on the positive things that matter. Jason demonstrates this in this […]

This video describes Jason Lockhead Superman Defense Technique. The technique involves you putting your non digging hand in the sand for more control so that you look like superman "Flying Pose" as you fly along the top of the sand. This technique was filmed while during practice while Jason was running a 2 ball beach […]

I am in South Africa training to hopefully play in the FIVB event in a few weeks. So with that in mind and having only started training with my new partner 8 days ago, every day I ask the question: "What is the most important points to focus on today so that we can have […]

Triangle Warm Up Drill is the most used drill in beach volleyball. The drill works on two of the major skills, passing, setting and warming up players shoulders from hitting. The drill is also great for player spacing and communication. In this video Pedro Brazao takes the players through the drill and offers his own […]

This is post is about my trip back to Africa as well as this being a volleyball website I thought I would start off with the most important things to work on when starting a new 2 person beach volleyball partnership as I see it. This is what I am doing with my new partner […]

In early 2014 Volleyball1on1 Owner Andor Gyulai filmed a beach volleyball practice with AVP and FIVB player and coach Jason Lockhead. Jason at age 30 is one of the youngest beach volleyball coaches we have ever filmed and also one of the most talented. For the practice we brought in 3 high level USA Beach […]

This defense drill is focused on players starting position of defense and not leaning as this can make it extremely difficult to change directions. This is a simple drill where the coach hits 3 balls, two balls for the blockers and 1 ball for the defender behind the block. The hits to the defender start […]

This is another great warm up drill which focuses on covering the hitter as well as lifting the ball after you cover the hit and getting back and ready to spike. This drill works on allot of beach skills that are often ignored but by doing it during the warm up it allows the players […]

This is a great warm up setting drill with Jason Lockhead, AVP and FIVB Player / Coach. This drill is designed for high level volleyball players but can be modified to make it easier or harder and you see how Jason does this, making the drill much harder as the players progress through it.

This is an incredibly fun and challenging beach volleyball drill that will warm up players, improve skills, improve team communication and finally get players heads in the game of volleyball. The drill felt next too impossible when it started but by the time it finished all 4 players were juiced and excited for what was […]

In this video you will learn advanced beach volleyball strategy for offense and defense used by the best players in the world including Kerri Walsh and April Ross. This video will offer new insights on running offensive and defensive routes as well as new advanced blocking calls to make this possible. This video includes demo […]

In this video Olympics Gold Medal beach volleyball coach Steve Anderson shares a new hand signal technique he uses for advance players to show not only the block and defense, but also where he would like the player to serve. This is extremely important for advanced beach volleyball strategy where you are looking to force […]

Hi, I'm Andor Gyulai – Owner of Volleyball1on1.com, I created this video to express some frustrations I have in the new ways volleyball spiking is being taught by people who have little experience playing the game, especially beach volleyball as well as minimal experience coaching youth successfully. I made this video to bring some new […]

This video was from the AVCA Video Tip Of the Week Series we filmed to help grow the sport and expand our brand. In this video we explain some of the concepts behind using volleyball demo videos to improve motor skill learning. This video is a great example of how demo videos can quickly help […]

This volleyball demonstration features Kerri Walsh setting April Ross to attack the second ball while the blocker is running up. As you can see the defense is not ready and gets absolutely owned on the play. This play should be run when the defense has a blocker that serves a weak serve that is easy […]

This Volleyball Demonstration features a sideout pass, set, hit with Olympians Kerri Walsh Jennings and April Ross. Kerri passes serve and attacks while April sets. Kerri spikes a hard angle ball that is dug but not controlled well and converted.

This 7 Angle volleyball demonstration features a sideout attack off serve with pass (April), set (Kerri) and spike (April). This was the first tournament the two Olympians played together in and yet they won it. Kerri Walsh Jennings is a 3 Time Gold Medal Olympian and April Ross is a Silver Medal Olympian.

In this 7 Angle volleyball demonstration, Sean Rosenthal and Olympics Gold medalist sideout on a cut shot off serve receive. Sean is spiking / attacking with Phil setting.

This volleyball demonstration includes Olympic Gold and Silver Medalist Kerri Walsh and April Ross. This is the first tournament the two played together in Huntington Beach, CA for the AVP Tour in 2013. This video demonstration features a angle block by Kerri Walsh Jennings with April Ross playing defense and running the line, followed by […]

This video focuses specifically on L vs. I Route and Offensive Strategy in Beach Volleyball. This video is part of a larger video but starts at the specific location where Andor starts talking about the L and I formation offense in beach volleyball. Video includes examples from Kerri Walsh Jennings, Sean Rosenthal, Casey Patterson, Emanuel […]

In this video we share advanced beach volleyball setting technique with Stein Metzger. (UCLA Sand Coach, NCAA MVP, Beach Volleyball Olympian)

Steve Anderson is one of the most accomplished beach volleyball coaches in the world having won the gold medal with the Australian women's beach team in 2000 and is the current heard coach of Beach Volleyball Canada. In these 6 video series Steve teach correct beach volleyball spiking technique.

This is one of the best videos we have ever filmed on beach volleyball spiking technique. In it Steve and Andor Gyulai (Andor – Has #1 Video in the world on Volleyball Spiking Technique) discuss every detail as it relates to beach spiking!

In this video Steve talk about an important concept for beach volleyball offense, meaning spiking as well as beach defense. This is the concept of the gift circle and understanding when spiking as much as possible to hit outside the circle while on defense to be able to dig every ball in the circle!