Developing a culture of honest open communication that builds trust "player to player", and "player to coach" can be a very difficult part of any team's culture.
"I Love, I Need!" is an easy to run, fun exercise, we teach at all our Volleyball1on1 Camps that addresses all these challenges and reinforces your team culture while helping improve a player's character in positive ways.
The exercise is best run toward the end of a hard day of practice or after the team has successfully accomplished a goal / challenge together and already spent time building trust and getting to know one another. We normally run this exercise towards the end of day-2 or day-3 of camp week depending on the group and schedule.
Post a Volleyball1on1 camp experience most teams work with this powerful tool at least monthly as a "team-building activity" to air problems and re-enforce team culture.
How the exercise works is each player receives a piece of paper, including the coaching staff. On the paper the person on one side writes their name at the top of the paper with the words: "I Love!". On the other side of the paper they write their name with the words: "I Need!"
The players then sit in a circle and each player writes a sentence or so about the other person on each side of the paper.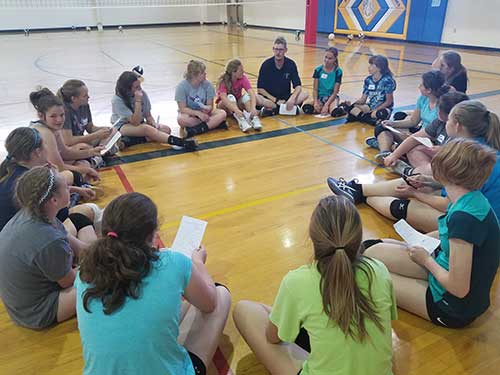 For example, on the "I Love" side of the paper:
– I love the way you push me to be a better player and how you are so positive in the back-row.
– I love your smile and how positive you are.
– I love your passing.
– I love your sets and your jump float serve.
For example, on the "I Need" side of the paper:
– I need you to be more talkative in the back-row.
– I need you to work on your jump serve and be more consistent.
– I need you to be more positive in your communication.
After each player has written on every other player's piece of paper the players sit in a circle with the coaching staff and read their piece of paper, "I Love!" first & "I Need!" second.
We encourage the coach and coaching staff to go first reading their sheet and always start with the "I Love" side followed by the reading of the "I Need!" side. We like the team leaders in the leadership council to go next but this is not a must.
Coaches, this is a great opportunity to be vulnerable and build trust with your players. Remember the principals reviewed in the coaching concepts from "The 5 Dysfunctions of a Team."  = Trust is built by being vulnerable. This was validated by Paul J. Zak who published a 10-year-long research study in the Harvard Business Review. (Show Vulnerability – New Research Validates Volleyball1on1 Coaching Systems for Team Building (Article 7 of 8)
Players also build trust with one another as they learn to be vulnerable with the points shared on their piece of papers. Keep in mind most players will be pretty diplomatic. This demographic is accustomed to writing about one another because of their use of social media.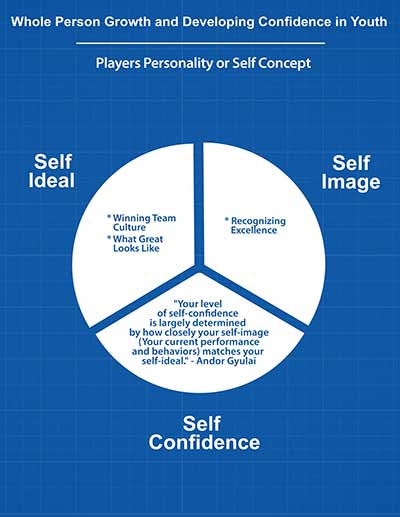 "It's Bigger Than Volleyball!" ™ – Building Players of Character
"Your level of self-esteem is largely determined by how closely your self-image – your current performance and behaviors – matches your self-ideal."
"At Volleyball1on1, we believe it is the job of the coach to craft an environment that is conducive to developing every player's self-image in the self-ideals we establish."
"I Love! I Need!" is a powerful way to help players build self-esteem by matching their self-concept with their self-ideal. The coaching staff and the team identify areas "They Love" about each player through the exercise. This reinforces positive aspects of how that player views themselves.
In my experience reinforced and identified attributes discovered through the "I Love!" exercise tends to grow as the player or coaching staff member is acknowledged for that attribute.
Reinforcing "What Great Looks Like!" ™ – The Winning Team Culture
Research has shown repeatedly that your team culture is one of the largest determinants for success. See the 60-30-10 Rule for more details.
Therefore, it is critical as a coach that we run team building exercises that reinforce our team culture and  the "I Love, I Need!" team building exercise accomplishes this and much more!
"Over the course of a season, our job as coaches is to steer the team towards a "winning team culture," while establishing "What Great Looks Like." ™ The result is that players will develop confidence individually, which then permeates onto the team as their behaviors and performances begin to match their self-ideal which we as coaches establish!" – Andor Gyulai (Owner – Volleyball1on1.com)
"What Great Looks Like!" (™) – The Volleyball1on1 Playing Standard (Click Here!)
"What Great Looks Like!" (™) – The Volleyball1on1 Winning Culture (Click Here!)
"What Great Looks Like!" (™) – The Volleyball1on1 Coaching Standard (Click Here!)
Above are important points we review that relate to our Volleyball1on1 Winning Team Culture. These ideas are constantly reviewed and reinforced! They act as the compass on how players and staff behave on and off the volleyball court.
I have included below "I Love, I Need!" exercise forms players wrote about me at past Volleyball1on1 Camps.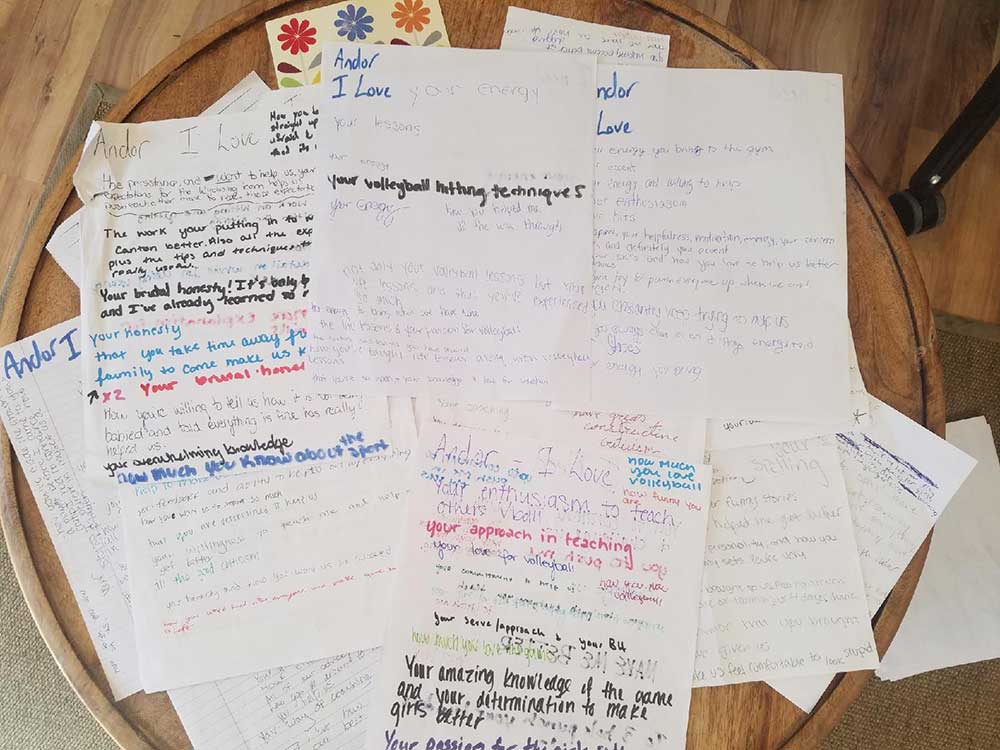 Here are some additional points on how we at Volleyball1on1 coach below. All three of these ideas reflect our ideas on "What Great Looks Like!" (™)
1) I love your B.H.: B.H. stands for Brutal Honesty! See the related article: Positive Reinforcement vs. Recognizing Excellence and Brutal Honesty
2) Your energy!: As a coach we must bring energy!
3) Your life lessons!: On of the best way to build trust is to help players develop as people. Developing Athletes and, More Importantly, Developing People!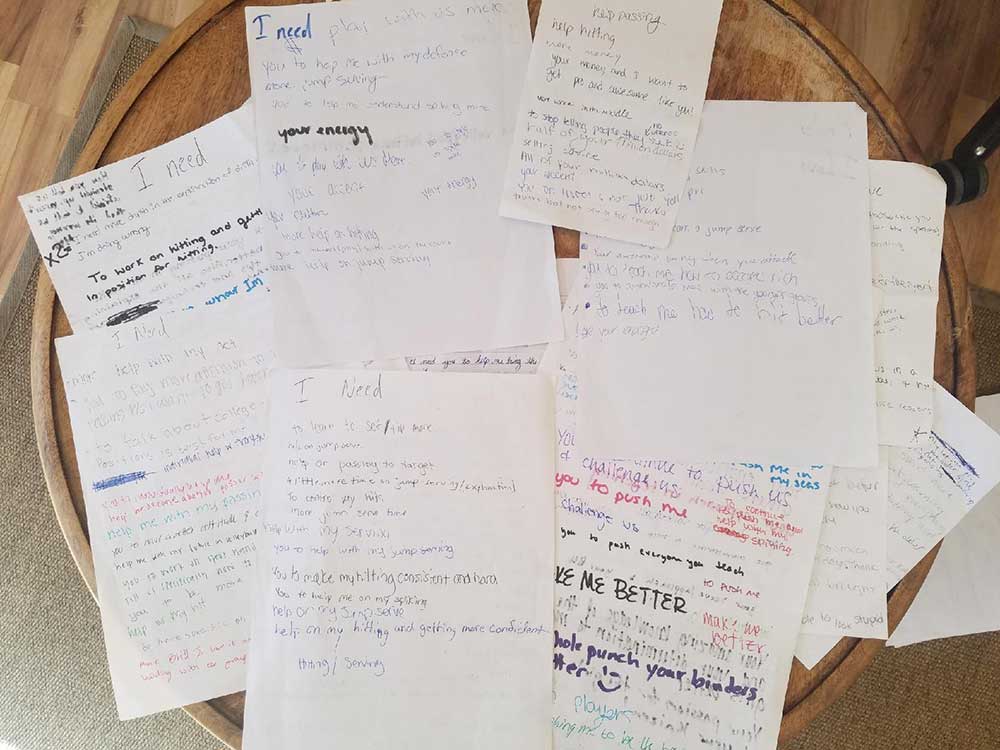 What I like about the second part of the exercise, the "I Need!" sheet helps give a voice to your players if they are not happy. As a coach I love the saying: "A loud crew never mutinies!".  I want my players telling me when they are not happy. I am a big believer in "Kaizen!" as reflected in our Volleyball1on1 coaching philosophy. This gives your staff an opportunity to reflect on how can we do it better or at least address challenges players may be having.
We offer help these powerful success tools through our Volleyball1on1 Summer High School Camps, Coaches Clinics, and Online Instruction.
Contact me if you would like to learn more about working with us!