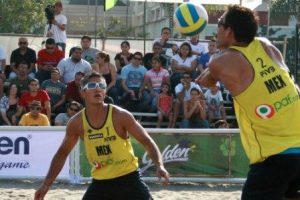 I've got a couple buddies who just returned from playing in two . They play for the relatively small, under-dog team from the Virgin Islands. Marc and Anthony are both in their own Amazing players. Anthony is an arrogant 6'5 monster who reachs his armpits over the net when he blocks any ball near him. Marc is 6'1 and a phenomenal California beach setter. Now I added that part about "California" because their tales from the tournament seemed to indicate that the extremely strict setting rules regarding doubles that are followed in most, if not all, California beach volleyball tournaments are changing. To put it into perspective, I've personally seen Marc run down a ball that was shanked 30 feet away from the court and perfectly back-set it back right onto the net for Anthony to blast onto the other side of the court. The set came out clean without any spin, but he had to hold the ball a little to get to power and control the ball so it wouldn't spin. Relatedly, in the NORCECA tournament Marc complained that he was getting called for lifts. The widely held belief in beach volleyball, at least here in California, is that its alright to hold onto the ball for a little longer when you set as long as it comes out with no spin. The NORCECA officials told Marc that the international rules are changing that belief.
Marc and I agree in our thinking that the strictness for doubles is becoming a little looser to allow for an easier transition from Indoor Volleyball to Beach or vice versa. This would also explain the probable rule change that is expected this next year in Junior's Indoor volleyball that players won't be allowed to receive a serve using their hands.
Backtracking to Marc getting called for his sets, though. He was not very happy to suddenly start getting called for his setting on the beach. Of the two we all expected Anthony to have a lot of problems with setting, not Marc. When he asked the referees how they were judging the sets the referees responded saying that they're becoming stricter on holding the ball and loosening up on calling doubles. They described that when someone is setting the ball if the contact the ball and bring their hands down and then shoot them forward to set the ball then that is a lift. They said that for a clean set as soon as the ball contacts the hands the hands push the ball forward. That way the ball never comes to a rest in the hands.
It was an interesting bit of knowledge to me, a beginner beach volleyball player. This would allow more indoor players to easily transfer from indoor to beach because the rules for setting are the same.