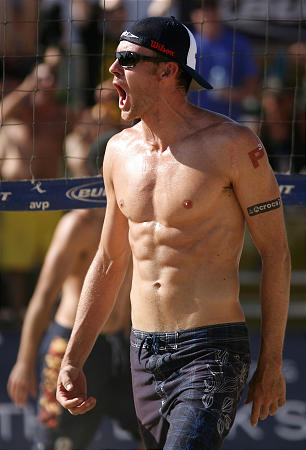 Many of you may have received an email from the AVP regarding Jake Gibb's amazing story of persevering to make the 2012 Olympics in London. Stories of this kind where someone has to overcome a tremendous hardship are my all-time favorites. Ernie Davis, Lance Armstrong, Amare Stoudemire, Oscar Pistorius, and many many others are prime examples of athletes that I have come to admire because of difficulties they have had to overcome. This story about Jake Gibb hits closer to home because 3 years ago I had the chance to meet him while volunteering at an AVP tournament in Southern California.
So as the movie shows and describes, Jake Gibb was diagnosed with Testicular cancer sometime last year. Doctor's told him that he was going to have to go through three rounds of chemotherapy. This would have effectively ended his chances of playing in the Olympics.
Needless to say, Jake Gibb ended up not needing any chemotherapy and after a grueling battle between him and Sean Rosenthal against Nick Lucena and Matt Fuerbringer for the last US Olympic spot for men's beach volleyball. In the end Gibb and Rosenthal took the spot and kept going. They're currently the #1 ranked team in the FIVB team rankings.
We'll have to wait and see how the duo featuring Jake Gibb turns out in their quest for Olympic gold, but know that regardless of the result Jake will have gained my respect as a competitor and an athlete.