Volleyball1on1 just released their latest videos featuring Dana Camacho. There is so much valuable information that Dana shares with subscribers, but the true gem is understanding how Dana "The Skyball King" Camacho has perfected his unique skyball serve. As a relatively new beach volleyball player I have tried serving skyballs a little bit. I've noticed that they can be effective because the higher the ball goes the greater the chance of the wind catching it and messing with the passer on the other side of the net. That being said I didn't know there was any special technique to performing a skyball. Before I watched these videos my skyball attempts could be compared to an underhand hit. I would turn my hand upside down and still hit the ball with "topspin" (Actually backspin) over the net. They were marginal at best, rarely resulting in anything more than a slightly shanked pass. Using Dana's serve has had different results.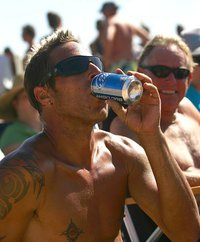 I'm not going to claim that I am very consistent with Dana's version of the skyball, but through practicing it for the past week I've come to understand why it's so effective. That fact that Dana actually puts topspin on the ball, while also sending it soaring in the air, causes passers to freak out. The topspin of the skyball is the same idea as with a topspin hit. Because the air is being pushed under the ball it causes it to drop at a much faster rate.
That being said my own attempts at learning how to use this serve have been a major work in progress. It takes hundred, possibly thousands, of repetitions to learn this serve. My own problems have been that I either hit the ball with too much power forward causing it to launch over the court, or I hit the ball extremely high in the air, but it travels behind me because of contacting it too early. I don't know right now that this serve is going to drastically improve my beach game (I have several other things I need to work on as well), but I do know is that this is an exceptionally fun skill to try. Especially, if you have an audience of people at the beach somewhat mocking and encouraging you with it.
Good luck to anyone deciding to give it a try. I definitely recommend it if you love to try new volleyball skills that you may not necessarily use to often. I'd compare it to a dunk vs a layup in basketball. It's amazingly flashy, but a simple standing float can do the job more accurately and effectively at times.