Fear of conflict is a major reason many teams fail over the course of a volleyball season. By comparison healthy debate tends to lead to more success yet few coaches know why and how to foster this important environment with and amongst their players.

As a coach I think conflict is good for progress. In many cases, conflict can lead to people examining multiple solutions and seeing other sides to issues which help them determine which solution is best.

"As a team we debate /review and then we make united decisions."– Andor Gyulai

I am not suggesting we become a democracy and all vote on what is the best solution but healthy debate helps create ownership plus is a powerful tool for resolving sometimes unnoticed conflicts in a team.

Example: I was traveling this summer coaching a high school summer camp for four days and early in the camp I was talking to one of the players and her response was: "She does not like me so she sets me badly".

As you can imagine this was a sensitive subject and I could not just jump into it without first building some trust between the players. So after a few days of hard work as a team plus some fun drills and team building exercises I had finally created a space for some healthy debate without fear of conflict.

The topic was brought up in the group and it became apparent this was not at all a personal thing but rather a problem the setter was having setting all the outsides. After a little communication and debate it was agreed that the outsides would come a little in to help the setter, and she would work on her power and pushing the ball more.

Now as a coach we all know these simple problems can really blow up on us! So it's important to address it meaningfully before it becomes a real big problem.

Gender Difference in Healthy Debate and Women's Fear of Conflict

I recently read a great book call "Top Dog" by Ashley Merryman and Po Bronson. The book pointed out a fascinating difference in how girls / women tend to have relationships in pairs (2) verses men who tend to have relationships in groups. (3 or more)

Paired relationships tends to lead participants to be allot more aware and cautious of each person's feeling as if there is a problem there is often no one or way to moderate that problem or resolve conflict between the pair.

By comparison because boys / men relationships are more often in groups if a problem arises, the group or someone else in the group can moderate the problem and often resolve the conflict quickly.

This major inherent difference in how each sex has the majority of their relationships has a huge impact on how each sex participates in group discussions and debates.

Men tend to be more comfortable in group settings with healthy debate and competition whereas women because of the historic pair nature of their relationships tend to be far more cautious in how they interact, debate and compete. (I will review how this affects competition in another article!)

In a debate girls / women are often more concerned about how their opinions are received by others and therefore tend at times to be less forthcoming, particularly in new groups. In group environments they often want everyone to feel incorporated and tend not to call people out for their mistakes. They are also cautious as being seen taking sides which can lead to less resolution when conflicts arise.

Men more often are the complete opposite and could care less if they hurt someone's feelings in front of a group. They are also often allot less sensitive to group analysis and tend to be more ready to move on and focus on the groups common goals. (Recent scientific research of early homosapiens in Northern Africa may even suggest this ability to group and co-ordinate as a major genetic advantage for why homosapiens went on to dominate Neanderthal in early evolution.)

As a coach if you are not aware of this major difference in how to approach boys / men verses girls / women when coaching, it can put your ability to coach successfully at risk.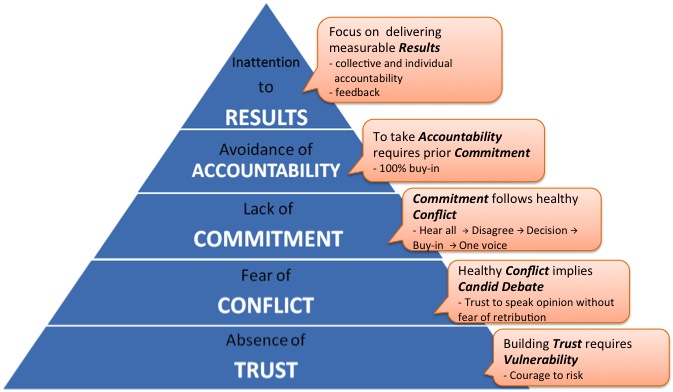 The 5 Dysfunctions of a Team – "Fear of Conflict" built on "Absence of Trust"

In part 1 of this article series I share the importance of building trust amongst your team and with your team. This requires players and coaches to often be vulnerable in front of each other.

But by having this trust players and coaches can now be open to "Healthy Debate" without a "Fear of Conflict". This takes time and focused attention and exercises with the team by the coaching staff.

Just like trust is built with simple exercise like the Name Game, so is "Healthy Debate" built with pre and post practice team meetings.

Some "Healthy Debate" Coaching Tips:

1) Encourage a culture and practice mentality of "Athlete Empowerment". This leads to a far more vocal athlete in the gym.
2) Build leaders within your team. (Players unconsciously assign leadership by age, skill level, or position (For example; a setter is often seen as a team leader).
3) Moderate early meetings and create a model for future meetings without you the coach. I find letting the players lead their own meetings leads to more open discussion. I feel it is also important for player development leading to more well-rounded people, better people preparing them for business and life one day.
4) Have the responsibility of these later team meetings fall on the shoulders of the team leaders.
5) Set-up individual or small group meetings with the team leader or leaders to address potential problems you may be concerned about. Also review meetings you are not present at with team leaders.
6) Avoid "Healthy Debate" just post matches or before competition. Emotions are often too high and this can quickly become uncontrolled conflict.
7) Create space and time for team meetings in the practice schedule.
8) Encourage meeting not only to review what was bad, but also what was good and could b better.
9) Take the time to reinforce incorporating positives and negatives from the team meeting back into practice design.
For example: "On tough serves we as a team agreed to pass the ball high and off the net because the 4th best thing you can do in women's volleyball is a 2-point pass." But the passers are not doing this! So let's agree that we are going to have to fix this and coach can you create some time in practice for us to work on this specifically and reinforce it?
10) Finally, encourage player ownership of the team through healthy debate and participation. This can be early or at the start of the practice asking what they want to work on or areas where they feel they need improvement as a team or individually.

High school volleyball often brings kids with very different skill levels and age levels together to compete as a team, particularly for schools from more rural areas or smaller talent pools.

As a coach if you do not take the time to address the problems that can arise because of these differences, later you can often have major problems pop-up that can lead to disaster and a failed season.

Good luck!

If you are a Volleyball Club Director / Coach or a Volleyball High School Coach looking to get access to our Volleyball1on1 Coaching Manuals and or work with me via our Volleyball1on1 "Travel 2 You" Clinics, click the link and I (Andor Gyulai) will contact you shortly!