I realize that it has been several weeks now since I last wrote anything. The main reason for this is pretty simple. I have pretty much zero time available to do anything. So what was I doing? The short answer is refereeing and coaching volleyball.
It started in mid-June with the Jr. Boys Classic in Anaheim, CA. The Jr. Boys Classic is, to the best of my knowledge, the last competitive boy's volleyball tournament before teams would leave for the Junior National Championships in Dallas, TX. As a referee in Southern California, I had the amazing opportunity to officiate throughout the weekend of the Boy's Classic. It was amazing. I felt like I was walking in the land of the giants the whole time I was there. I'd like to point out that I really am not that short (I'm 6'3), but at this tournament I was definitely on the shorter end of the spectrum.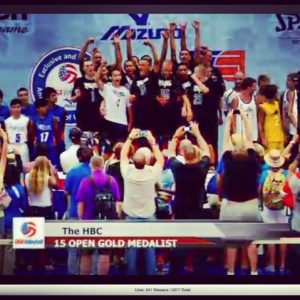 My weekend began as I officiated for several of the top boy's 15's teams, including the eventual tournament winners HBC 15's. I know I said this already, but it bears repeating. It was AMAZING. The passion and love for the game that I witnessed all weekend reminded me of the practices where I've helped out either the men's or women's national teams. These young players wanted to do their best.
Now my recollection of the event is probably a lot different than most accounts you'd hear about a tournament because I was a referee. Not many people understand the difficulties of being a referee. Now the following list is not to excuse any referee's making poor calls, but to help you to understand that being a referee is an extremely difficult job. Those of us referees who officiate junior's tournament have a particularly rough time.
1. We usually have to work from the beginning of the day each day until the end of the day each day. Bigger tournaments like the classic allow us to have periodic breaks here and there, but for the vast majority of the day we are on our feet watching volleyball of extremely varying levels. Within the course of one day we could be officiating one of the best matches we've ever seen and then only a few hours later we have to stand and watch what some people describe as volleyball, but really looks just like people bumping the ball back and forth over the net until the ball hits the ground.
2. During major tournaments we have to deal with players, parents, and coaches from all over. I remember having teams from Wisconsin, California, Arizona, Puerto Rico, Hawaii, and many other places. Each of these teams is accustomed to having officials do their job a certain way, and I'll be blunt. Different regions have different focuses for their referees. In Southern California, we have for the most part very relaxed refs that let a lot of borderline calls go so the game can continue. That being said I had plenty of times during the weekend of the boy's classic where I learned (usually by being yelled at) that another region's referees call things a little differently and more strictly.