What are sports, if not a series of achievable challenges presented to a team on a yearly, monthly, weekly and daily basis?
Indeed, challenges are ubiquitous in sports, so it should come as no surprise that it is those very challenges – achievable but not too easy – that brings teams together with the wonderful unifier of trust.
Paul J. Zak, a psychologist who for the past 10 years has studied the most effective ways to build trust in the workplace, wrote this in the Harvard Business Review: "When a manager assigns a team a difficult but achievable job, the moderate stress of the task releases neurochemicals, including oxytocin and adrenocorticotropic, that intensify people's focus and strengthen social connections. When team members need to work together to reach a goal, brain activity coordinates their behaviors efficiently. But this works only if challenges are attainable and have a concrete end point; vague or impossible goals cause people to give up before they even start. Leaders should check in frequently to assess progress and adjust goals that are too easy or out of reach."
A workplace is not all that different from a volleyball team. Both have individuals who must work together to achieve a common goal, and both have a figure at the top of the hierarchy who is leading that team. In this case, a volleyball coach is that figure.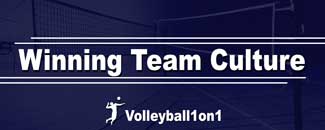 So, how can you, the volleyball coach, apply this to your team?
The first way to build trust through achievable challenges is to set goals – which serve as achievable challenges – early in the season. The Volleybal1on1 coaching system believes that this should be focused primarily in two areas: Building the team culture of the program, and establishing "what good looks like."
To improve the former, team culture, we urge you to understand what is known as the 60-30-10 rule, established by Harvard psychologist and expert in team dynamics, Richard Hackman. The basics of the 60-30-10 rule are that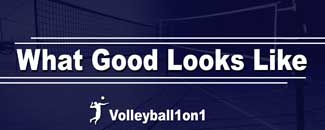 60% of the variation in team effectiveness is attributable to the design of the team, 30% to the way the team is launched, and 10% to coaching or leadership once the season is underway.
When describing the "design of the team" aspect, Hackman doesn't mean simply picking the most talented people – he means picking the right people, and establishing the appropriate nature of work, a goal, and a plan for enabling support systems. There's a phenomenal scene in the movie Miracle that illustrates this concept, when United States Olympic hockey coach Herb Brooks cuts arguably the most talented prospect because he doesn't gel with the rest of the team and the culture of the program. That team, of course, goes on to stun the Russians in what has since become known as the Miracle on Ice.
As a rule, Volleyball1on1 believes that coaches should attempt to define their team culture before the first tryout, practice, or even team camp. One team will pass the "culture" down to the next, creating a humming, unified machine.
As for the second element: What good looks like.
The Volleyball1on1 coaching system defines this in physical, tangible measurements, such as:
Serving is the first, second and third most important skill in men's volleyball and as such hit our players work every practice on serving tough and in. (See study)
Our goal is to serve at 92% for the season
All of our players use a jump spin or jump float serve
Our serve sets up our defense
Passing is the first, third and fourth most important skill in women's volleyball (See study)
On a tough serve, we pass the ball high and off the net, because a two-point pass it the fourth most important skill in women's volleyball
All players on the team know must know how to bump set and overhand set, as setting is the second and fifth most important skill in women's volleyball
Non-setters must set the ball inside and off the net, as a set 5-8 feet off the net is the fifth most important skill in women's volleyball.
Our players learn to attack smart and in on bad sets as the fourth worst thing you can do in men's volleyball is hit out.
We work on team defense before team blocking as perfect dig is the sixth best thing you can do in women's volleyball.
And the "what good looks like" the list goes on from here…
Now, to continue building trust on a daily basis, every practice should have a clearly established goal and a theme. Each player should understand their own individual goals as well as how their goals relate to the overall goals of the team. These goals are, of course, related to the overarching culture of the team and what you have established as "What good looks like."
As Zak mentions, these goals should be challenging yet achievable, thus inducing a moderate level of stress. A goal that produces that level of stress will cause the release of neurochemicals, including oxytocin and adrenocorticotropic, that will intensify a player's focus, which results in strengthened social connections and building trust.
At every camp we run at Volleyball1on1, the first thing we do is work with the coach to establish a winning team culture. From there, we establish goals that fall in line with that team culture.
During the camp through demonstration, practice, video analysis and more we teach your players "what good looks like." We then work with you using our 30 Volleyball1on1 Practice Plans and coaching system to help thus inducing a moderate level of stress with challenging yet achievable goals.
The result, over the course of the week – and subsequently the season – we guarantee that your players will work together better than they ever have, improving in their communication and, most importantly, their trust with one another. All while living the team culture and getting good at "what good looks like" on the court playing volleyball.
Related resources:
Volleyball1on1 Summer Camp Overview
Schedule a call with Andor Gyulai to review our running a summer camp together.
Articles: